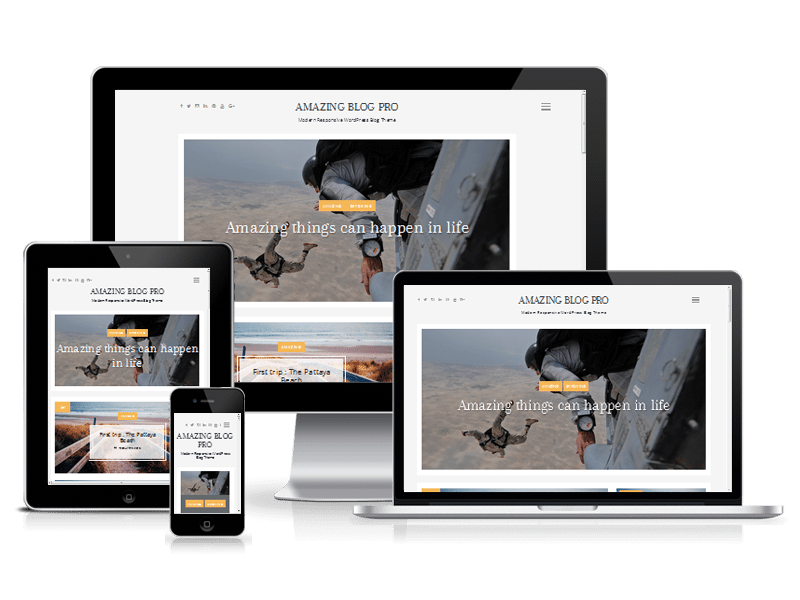 Notice: Undefined variable: download_id in /var/www/vhosts/evisionthemes.com/httpdocs/wp-content/themes/evisionthemes/inc/edd/edd-function-extended.php on line 174

Theme detail
Software Version
Categories
Blogging, News, Magazine, Journal
Common Features
Custom favicon
Custom Footer
Custom Widgets
Responsive Layout
Translation Ready
Product Description
Blogging has been very popular nowadays. It is a hobby for some bloggers whereas a source of income for many. You may be intimidated by the idea of starting a blog, but don't worry; WordPress is at your service. You don't need to have a great deal of technical expertise to use WordPress. With the availability of plenty of free as well as premium blog theme, all you need to do is create your content and post it.
Amazing Blog Pro is a clean, minimalist premium blog theme for everyone. It's suitable for any agencies, blogger etc. You can share information, your stories, experiences, with images, audio and videos. It has a responsive design, so, your blog will look great on any device. This premium blog theme is marked at a very reasonable price. With this free blog theme, you won't have to write a single line of code to start your blog.
SEO Ready
Amazing Blog Pro is developed with the latest coding standards. It is fast, compatible with all popular browsers, and looks/works the same in all screen sizes. Thus, Amazing Blog Pro makes your website SEO ready so you will stand out from your competitors in the search engine rankings.

Responsive Layout
More people browse the internet using handheld devices than desktop or laptop. So, if you want to target a large number of viewers, there is no way around a responsive design. Amazing Blog Pro is completely responsive. Thus you will attract more traffic because of the design.

Enable-Disable Different Options
You can activate or deactivate any feature of the theme whenever you like with just a click. This makes the customization process way faster.

Breadcrumb Option
Amazing Blog Pro comes with breadcrumb option. This helps your user to easily navigate different contents of your website, and in turn enhance the users' experience.

Pagination Options
If you have a huge number of posts, it will look all cluttered and your visitors will have a hard time finding what they are looking for. This is why Amazing Blog Pro has pagination option. You can easily organize you contents with this feature.

Unlimited Colors
Your website layout should be unique and having unlimited colors feature is one of the criteria of ensuring that. So, Amazing Blog Pro has the feature to select colors for almost all the elements of your website just from the customizer.

Footer Copyright Editor
You can easily remove eVision Themes copyright information and add your copyright statement.

Full Documentation and Live Chat Support 24/7
Amazing Blog Pro comes with a full documentation which acts as a manual for operating the different features of the theme. We also provide you with live chat support 24/7 if you need help using the features of the theme.

Live Customizer Option
Using Amazing Blog Pro you get to customize your website using the live customizer option. The live customizer option of the Amazing Blog Pro is more flexible and easier to use than its free version.

Free Vs Pro Version
| | | |
| --- | --- | --- |
| Awesome Theme Feature | Amazing Blog (Free) | Amazing Blog Pro (Premium) |
| Fontawesome Icon | Yes | Yes |
| Fully Responsive Layout | Yes | Yes |
| Design Custom CSS | Yes | Yes |
| Translation Ready | Yes | Yes |
| Upload your logo | Yes | Yes |
| Instagram Integration | Yes | Yes |
| Social Links | 3 | Unlimited |
| Page Templates | 3 | 6 |
| Theme Options | Customizer | Easy Widgetized drag and drop |
| Home Page all sections | Limited in Number | Unlimited |
| Header Options | Limited | Multiple options |
| Credit Links option | No | Yes, enable/disable setting |
| Font-Family | No | YES (100+ Google Fonts |
| Color Options | No | Unlimited Skins |
| Guaranteed Updates and Support | No | Yes |
| SEO Optimized | No | Yes |