Many people have a wrong belief that using WordPress you can only create blogs and WordPress can't power a website. As a matter of fact, it's completely wrong. In fact, from a simple blog to a fully functional website, WordPress can be used to create just about anything. In reality, powering over 27% of all websites, WordPress is the best content management system today.
The best part about using WordPress is that it's very easy to master and has countless themes and plug-ins to make the process even easier. That's the main reason for its popularity.
Due to its powerful features, many popular websites use WordPress: CNN, Chicago Sun Times, The Walt Disney Company, PMINDIA, Canada.com, Toyota Motors Brasil, Vogue, Snoop Dogg, Fortune, Beyonce, and many more.
Below we have mentioned some of the reasons to answer the question: "Why should you use WordPress?".
Advantages of Using WordPress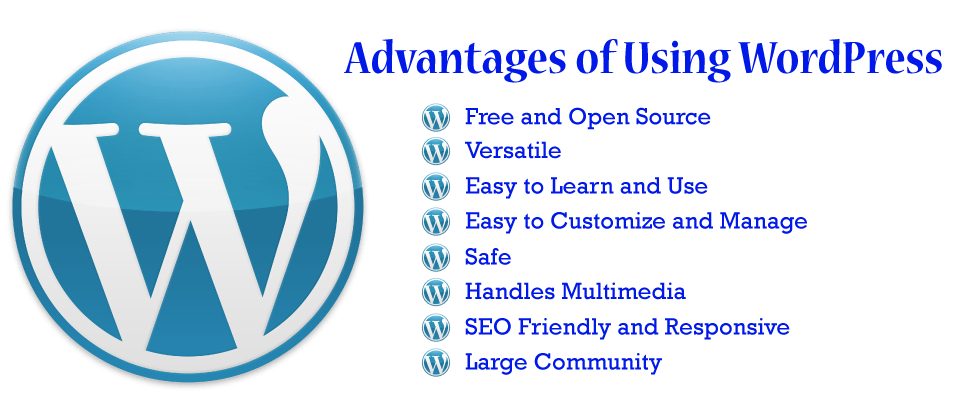 WordPress is Free and Open Source
WordPress is completely free and comes with unlimited validity. Hence,  you can download, install, and use the software without paying a cent. Even if you create a website using WordPress and earn money from the website, WordPress won't charge you.
Likewise, WordPress is open-source, so you can study, modify, extend and distribute the source code. A large group of volunteers and consultants work hard to maintain and enhance WordPress. You get free support from the members of the WordPress community and you can contribute back to the community too.
WordPress is Versatile
WordPress is versatile and lets you create any type of website. With wide range of themes and plug-ins, the possibility is limitless.
As a matter of fact, Almost all form of website is possible to create using WordPress:
eCommerce website
Business website
Photography website
Website for NGOs
Membership website
Service Booking website
Blog
Video website
Question Answer Forum
If you are searching for an elegant and powerful theme then check out our FREE and PREMIUM themes. If you want to know why you should choose our premium themes then please click here.
WordPress is Easy to Learn and Use
Millions of people use WordPress and almost every day new people create their first website using WordPress. The main reason of its popularity is that it is very easy to learn and even a person who has no technical prowess can easily adapt to it.
It is as easy to use as a word processor like MS Word. Moreover, the inbuilt facilities like comments, blog publishing, widgets etc. make the process of creating a website a piece of cake. Likewise, the user interface is very simple to use. After installation, you can create and publish pages straightaway without writing a single line of code.
WordPress is Easy to Customize and Manage
It is easy to customize the design, colors, and features of a WordPress theme. In fact, all the settings are in the dashboard. You can easily customize most of the elements of your website using the user-friendly interface. Moreover, if you have coding knowledge then you can customize a theme by editing its codes.
WordPress notifies you when a new version of WordPress is available; you can update it by just a click. In addition, the built-in updater lets you update your themes and plug-ins from within your dashboard.
WordPress is Safe
WordPress is highly secure. But as we all know, the internet is uncertain. Hackers continuously try to find loopholes in WordPress. You don't need to worry. Using the basic WordPress security tools, your site will be highly secure. Remember to update your WordPress when a new version is available. Download themes, plug-ins from trusted sites only. Premium themes must be your first priority as free themes may not be secure enough.
WordPress can Handle Multimedia
WordPress doesn't limit you to text only. It supports image, audio, video content. Even high resolution images and videos won't be a problem. You can easily upload the media files and add them in your site just by few mouse clicks. You can also embed Youtube videos, Instagram photos, Facebook posts just by pasting the URL in your posts.
WordPress is SEO Friendly and Responsive
WordPress is SEO friendly. It fulfills all the SEO responsibilities. Some of the features that make WordPress sites SEO friendly are as follows.
Fast Loading Speed
High Quality Code
Navigation
Social Media Integration
Responsive design
Moreover, there are many plug-ins that boost your site's ranking.
WordPress themes are responsive. This means your site looks great in any type of device (desktop, laptop, tablet, mobile) and any browser. This way you have the chance to reach out to a large crowd and increase the number of your site's viewers.
WordPress has a Large Community
WordPress has millions of active users and many developers. It has a support forum that contains queries and solutions. You can search for your query to attain previously answered question. You can also post your questions without any hesitation and you are sure to get an answer. Besides, there are many other websites that provide you with support forum where you can get a solution to your problem.
We hope we were able to answer your question and clear up any doubt you had. All in all, the features of WordPress make it a great piece of software to build your website. But first you have to use WordPress to experience its true powers. We highly recommend you to give it a try. Do feel free to share your thoughts and experiences you have gained using WordPress in the comment section below.