Do you have a non-profit organization and want to create a website for it? There are many ways to do so. You can hire a website development company and pay it thousands of dollars. Or, you can use WordPress and buy a premium non-profit organizations theme. Or, the best option: you can use WordPress and use a free non-profit organizations theme.
WordPress with a free theme is the most pocket friendly way to set up your website. There are many free themes out there. Therefore, the idea of choosing a theme can be very intimidating. For this reason, we have written this review about our free non-profit organizations theme: Charitize. You can rest assured that you will be able to create an elegant website using Charitize without much effort.
CHARITIZE: Free Non-Profit Organizations Theme
Charitize is a free WordPress theme nonprofit organization of any type, charity events, political parties, churches etc. It provides you with a range of tools for effective site design. . It is completely responsive as well as has a fluid layout. Hence, your website will look elegant on any screen size, and browser. Moreover, with easily customizable options you won't have to hire anyone to create a website for you. As a result, you can use the money  in your projects. The theme is translation ready and is compatible with popular plug-ins too.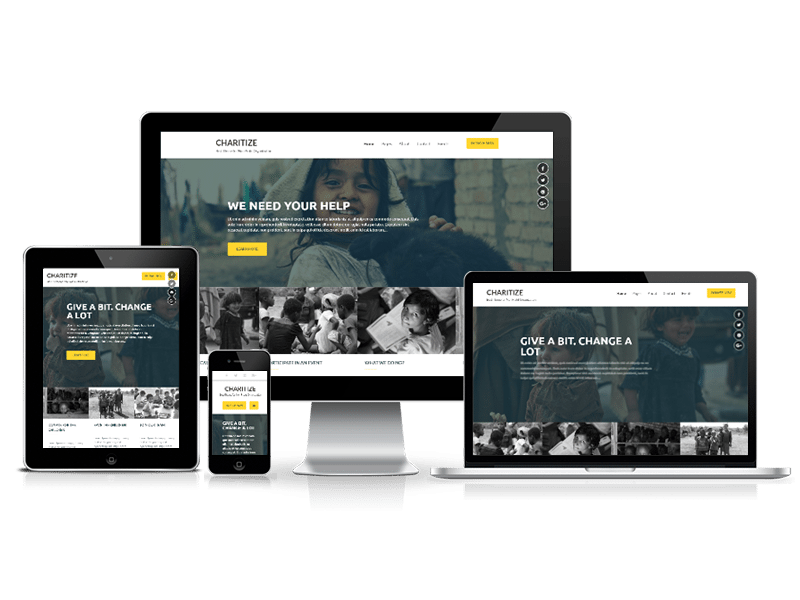 The different options available in the theme make your website look elegant and professional. The color options, background image option, and font family options give you the freedom to make the site look the way you want it to. You have a variety of sections to efficiently organize your website.
Header and Banner
The header section contains your logo, title, and tagline. In addition, here you can include the menus you have for your website. Just below the header you have a beautiful banner section. Here you can add images for the image slider. The images can be the moments you captured during your project as well as the images promoting your upcoming projects. Moreover, you can add text over the image to briefly describe about the image.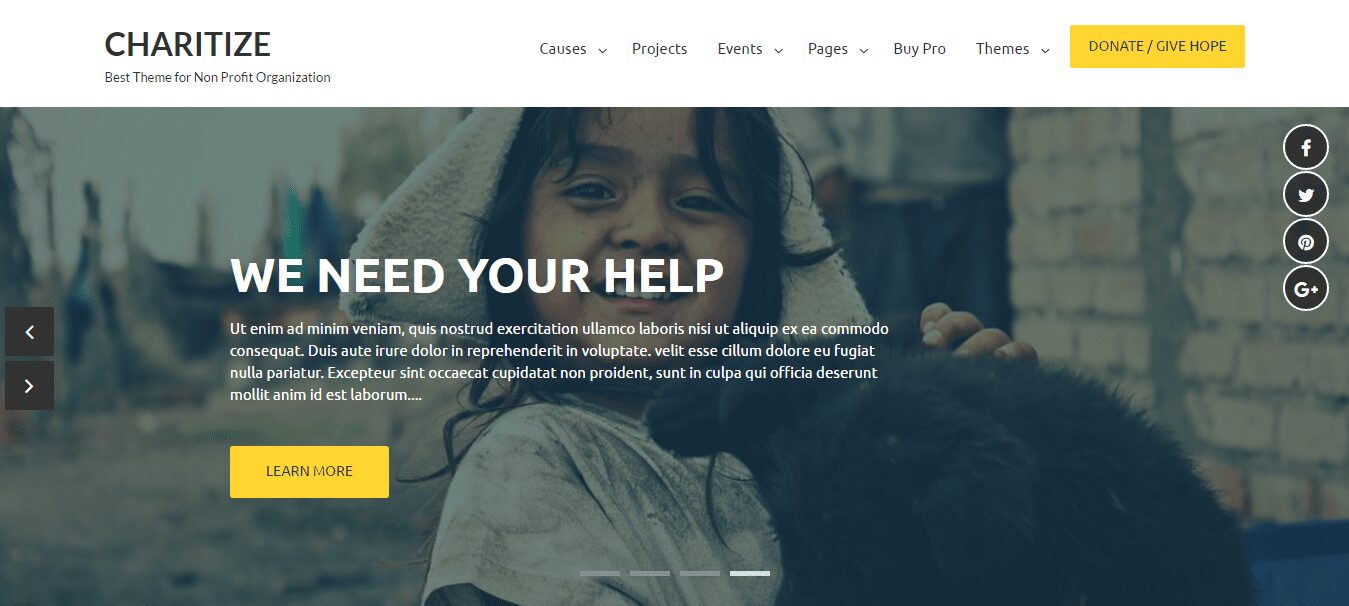 Activity
After the header and banner section, you have the activity section. It uses carousel slider. Hence, you can present your contents elegantly. You can display your recent activities, news in this section.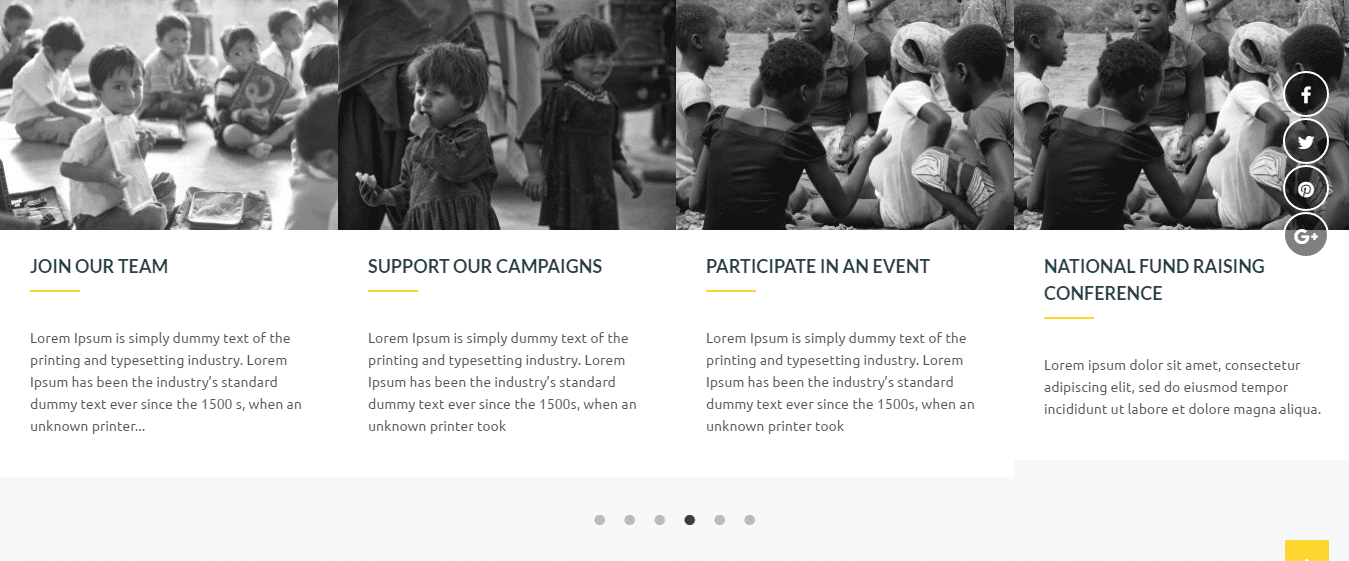 Donation
Non-profit organizations generally don't have any source of income. They depend upon fund-raising programs and donations. Donations in particular are very important to any non-profit organization. For this reason, we have included "DONATE NOW" button over a parallax image slider in the background. As a result, your website visitors will get attracted to the donation section and won't get distracted elsewhere. Moreover, you can write a short message over the image.

Our Team
Employees of a non-profit organization work hard for the betterment of others. Many times they sacrifice their happiness to bring a smile in someone else's face. That is why we believe that your team deserves to be featured in your website. Hence, we have included team section in the theme. Here, you can display your team members along with their photos along with their profile as well as their social media accounts.

Event Gallery and Google Map
Charitize has event gallery section where you can showcase your events. You can display your events beautifully  by using the image slider. Just below the event gallery section, there is Google map section. You can share the location of your organization using Google map. This will help your website visitors know about your location if they want to visit your organization to make donations in person. Likewise, it can be helpful when you are calling for volunteers. You have the freedom to use the section the way you want to.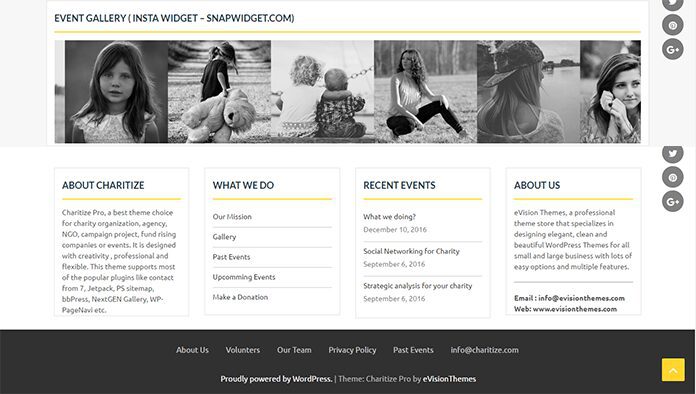 Footer
You can use the footer section to display information about your organization, contact information, mission, etc. You have footer customization options.

Additionally, you also have back to top, pagination, and breadcrumb options included in this theme to make the navigation process easier. Social media are a great source of promotion nowadays. You shouldn't lag behind promoting your projects, news as well. The social links available in the theme let you easily share your activities in various social media.
You may think that customizing this theme may be pretty hard as there are so many options available. Well you don't need to worry. You can easily customize the theme using only the customizer API. You can easily enable/disable different options. We also have a well-written documentation that guides you through the various options of the theme. We also provide you with support in our support forum or via e-mail if you have any problem.
The features available in Charitize make it a perfect free non-profit organizations theme. It's absolutely free, so you can give it a try. You can download the theme or check out the demo. If you want to upgrade the theme and have limitless options then you can buy Charitize Pro.
Which free theme for non-profit organizations theme are you using? Feel free to share your experience or the link to your organization's website in the comment section below.