Search Engine optimization is an overwhelming and complicated process if you have just started. But it doesn't mean that you can't work faster and smarter with SEO. SEOquake is the free extension for your browser, which allows you to see metrics for every single internet page.
SEOquake is one of the best free SEO plugins. It a tool that allows you to perform page audits, link assessments, keyword analysis, and competitor comparisons without leaving your browser window.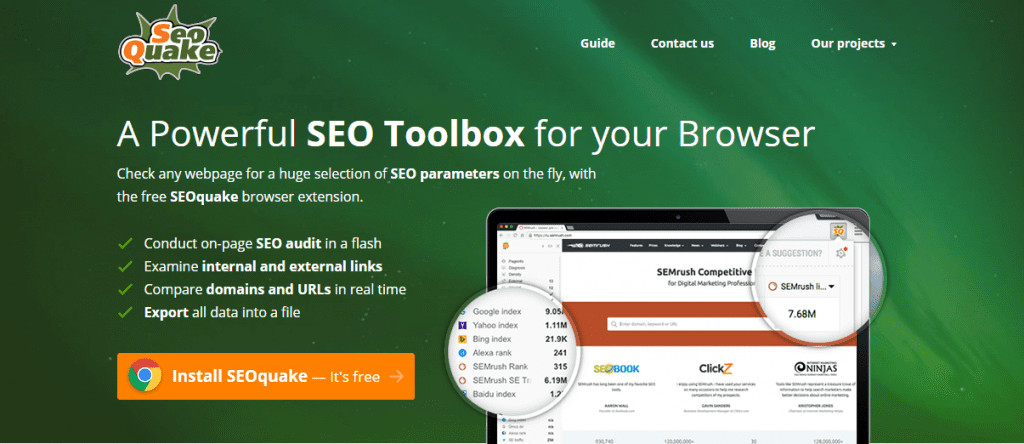 The free SEO browser extension allows you to see the vital SERP metrics for all the website pages, including Alexa Rank, Google Index, Facebook likes, SEMrush Ranking data, and many more. You can easily and quickly get access to analytical data on any webpage at the click of a button.
What can you do with this powerful SEO tool?
You can analyze your webpage with a huge selection of SEO parameters. By installing the SEOquake in your browser, you will get the following parameters:
Review all the major SEO metrics in a click
Do your website SEO audit in no second
Examine the keyword difficulty and density
Export all the essential data in a .csv file
Examine all the links (internal & external) on a webpage
Check the mobile compatibility of the webpage
Compare all the URLs and domains of your competitors
Examine all statics for Twitter, Facebook, Pinterest, and Google
Allow you to export and sort all the results
See the number of indexed pages examined by search engines for a given domain
How to get started with SEOquake without any hassle?
SEOquake is easy to use and install browser plugin. Once successfully installed, the extension icon will appear on the top right corner of the browser. After activation, it will change its color from black and white to more vibrant hues.
It is currently compatible with Mozilla Firefox, Google Chrome, Opera, Android, and even with iPhone and iPod. Microsoft Edge is not compatible with it.
Downloading and installing the extension in chrome
Open your chrome browser and go to the web store.
Search for SEOquake and click on the Add to Chrome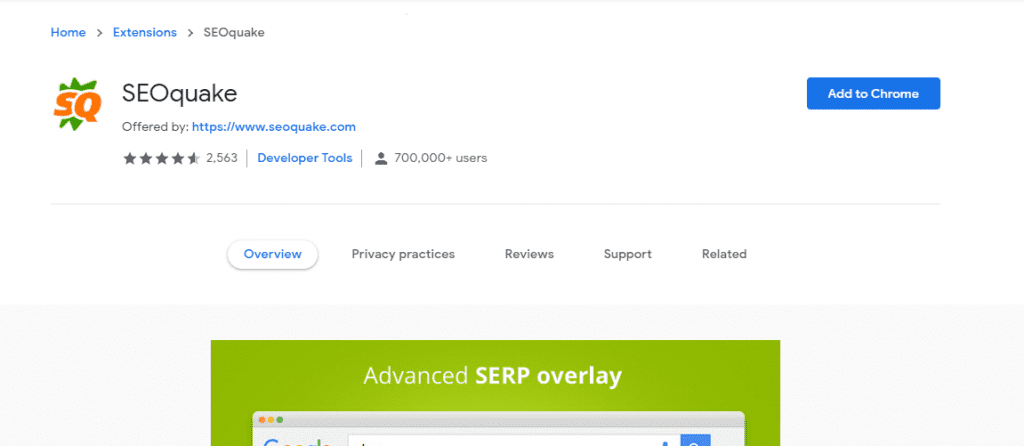 Upon reconfirmation from the chrome, click Add Extension.
Once the setup process will be completed, you can see the SEOquake icon next to the search bar.
It is a free SEO tool that requires no subscription. After successful installation, you can take full advantage of this powerful tool.
What features will you get by installing SEOquake?
When it comes to getting the most out of your digital marketing strategy, SEOquake is the one handy tool that provides you endless features to uncover all the information. From detailed audit to the SERPs analysis, you will get all the data to improve your website performance with SEO.

With the SEO bar, you can get a summary of any webpage, you are viewing in the browser. It is an interactive bar that you can adjust according to your requirements. In case if you don't need it, you can simply turn it off.
If you don't want to see the bar on the top of your webpage, SEOquake has a solution for you. SEO dashboard is a lightbox that you can open with only a click. It gives you a brief SEO view of the current webpage, including page rank, domain, and backlinks.
With this SEO extension, you can access vast data, including Alexa and Google rank, Yahoo index, and SEMrush. It allows you to switch between different reliable data sources. You can also view Facebook statics and Twitter following.
With the SEOquake extension, it is easy to get a detailed report of the keyword present on a webpage. It helps you to know how many times a keyword has appeared, where it is found, and what is its density and prominence. You can also narrow down the search with advanced filters.
With SERP overlay, you can get a detailed analysis of all the SERPs and even export the results in a .csv file.
The plugin allows you to export all the SEOquake data in a .csv file. The export process is quick and simple. It also provides the print option to the users.
One thing you probably don't get with other SEO tools is the comparison of over 15 URLs at one time. Now, compare your URL with your competitors with all the parameters, including backlinks and Google rank. You can export the results in the form of a report.
It is not easy to identify the website problem that occurred with modern search engines. But with the SEO audit feature, you can check the health of your webpage with a detailed diagnosis. Spot and fix all the issues in one go with this feature.
Pros and Cons of using SEOquake for your website
Everything comes with some pros and cons. Here are some pros and cons of using SEOquake for your website.
Pros
You get a ton of SEO information in a single tool which can help to enhance the website performance.
It is compatible with most browsers and also works effectively with android as well as iPhone and iPad.
It improves your website ranking by telling where it is doing well and where it needs improvement.
Cons
For a new person, it can be quite confusing to use the tool, and there is not much explanation available.
The data handling is unhandy.
Keywords density feature works well, but it doesn't provide rationales as to what an average percentage should be and what you should aim for.
Is SEOquake worth installing or not?
If you want a free SEO tool that quickly analyzes your website with high-level data, SEOquake is the right tool to use. So far, the biggest advantage is being able to compare several URLs at a time. But if you want a deep SEO analysis, other alternatives are a better option for SEO.