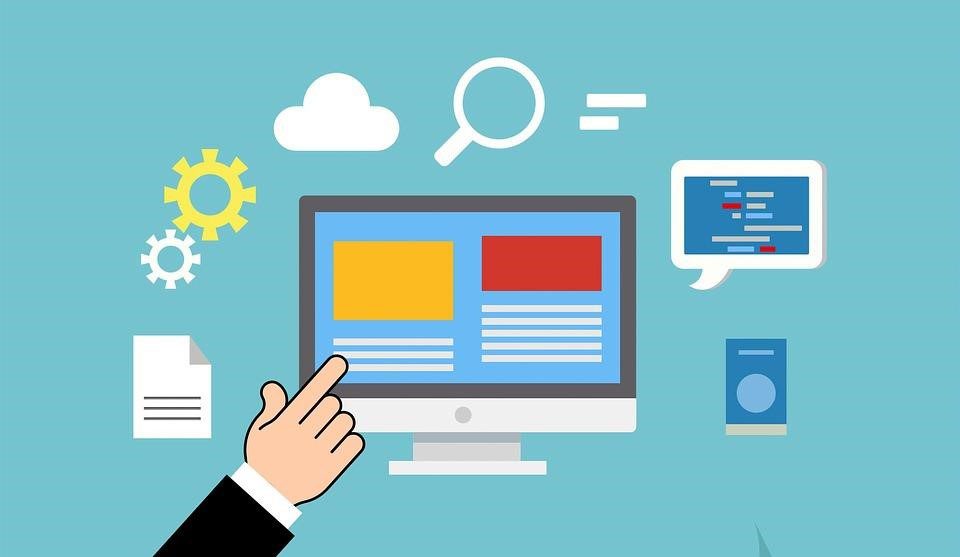 Whether you're launching a new career or rebranding your agency, you will need a fantastic website to build and communicate with your potential clients.
When it comes to website design, you have the skills to go the DIY-route as a cost-cutting measure, but you still need a great foundation. A responsive & dynamic website that captures your creativity.
With the following 10 free themes that our artist friends over at theprojectartist.com who write about artist careers picked up from WordPress. Let's see what we've got.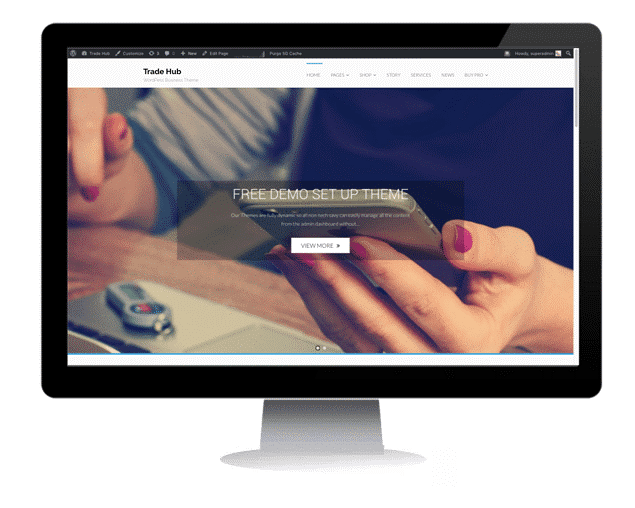 Trade Hub lets you create powerful static landing pages that instantly make it clear what your business is all about.
The menu uses a unique color schematic that helps it stand out from the rest of your website's theme, plus it can be customized endlessly using the Theme Customizer. Thanks to the clean coding, your website will load super fast without hogging your hosting provider's resources.
At its heart, Trade Hub is a multipurpose website builder, designed for the accountant, coach, lawyer, teacher, or a designer. If you sign up for the premium version of the theme, you'll even get access to a dedicated support team to help you.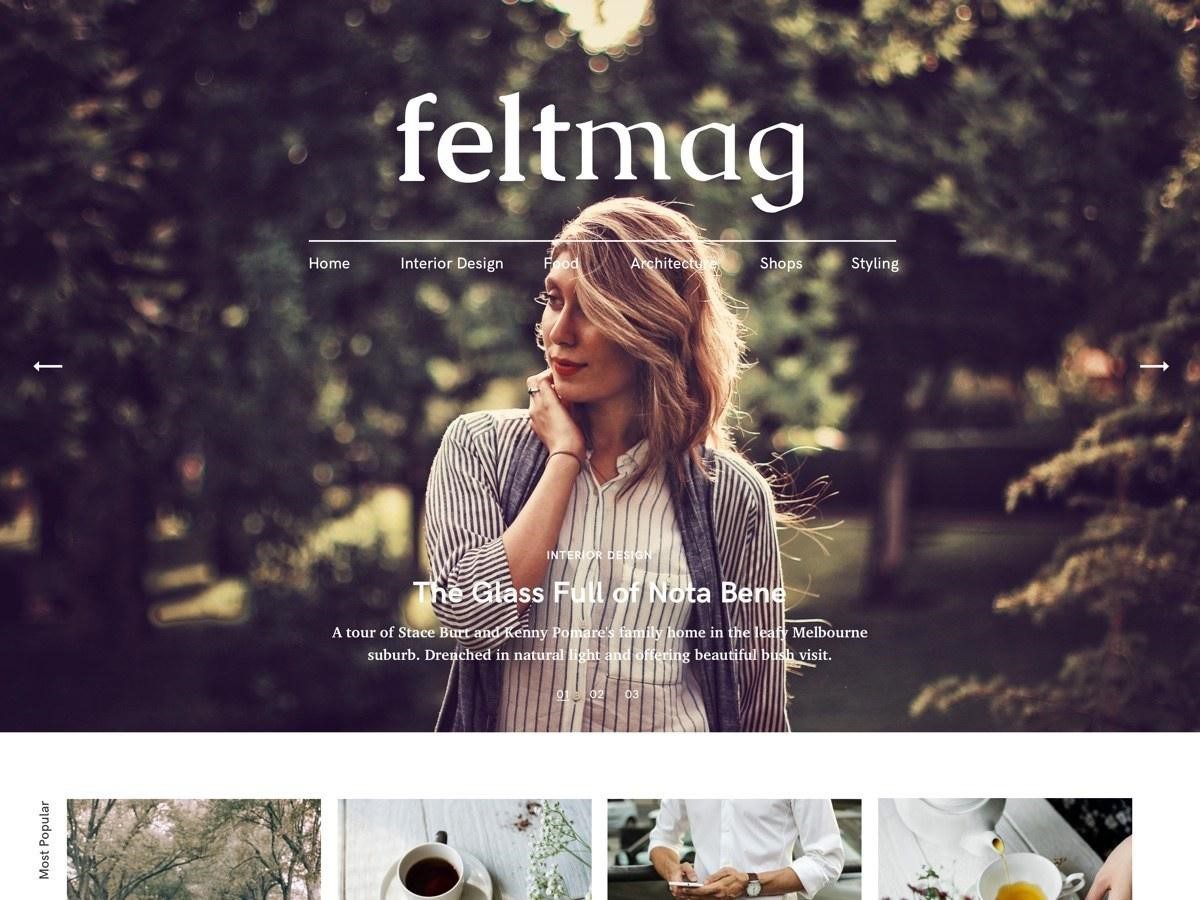 FeltMag gives you access to multiple widget areas. This is useful for the designer who wants to showcase multiple ideas and projects in a modular layout. You can choose from a range of custom widgets that highlight areas of the website that you feel are important to your customer.
FeltMag has been developed as a complete solution for all your graphic design needs and comes loaded with powerful features to expand your website when the need arises.
Active Installations: 200+
Ratings: Not rated yet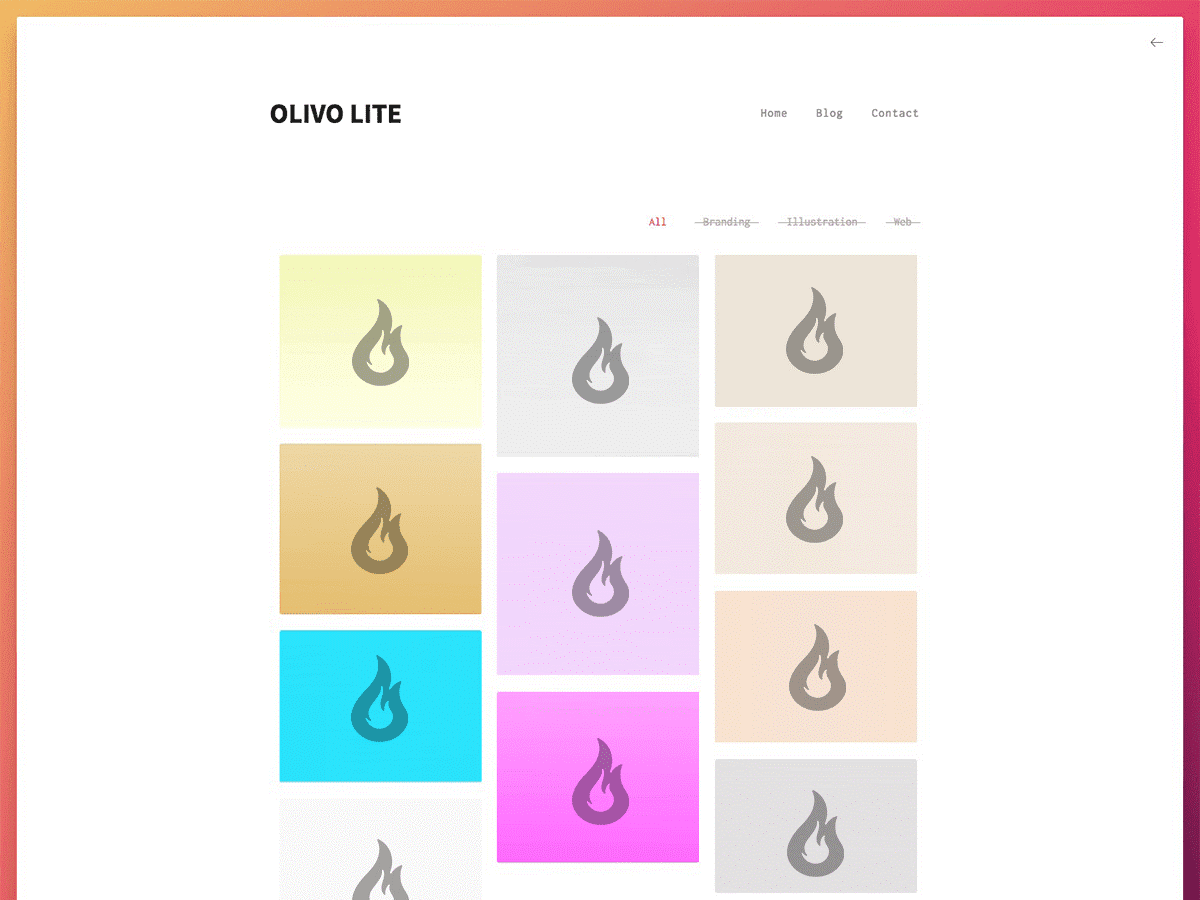 Olive Lite is a cleverly conceived theme that is uniquely powerful, highly responsive, and ultra-sleek. It requires absolutely no coding knowledge to create remarkable website portfolios while staying true to your creativity.
Aimed at the designer who wants to showcase their portfolio and stand out from the crowd, there is no shortage of customization options that will suit your exact specifications. Olive Lite lets you easily customize both header and footer styles and fine-tune them exactly how you envisioned them.
Active Installations: 200+
Review: Not rated yet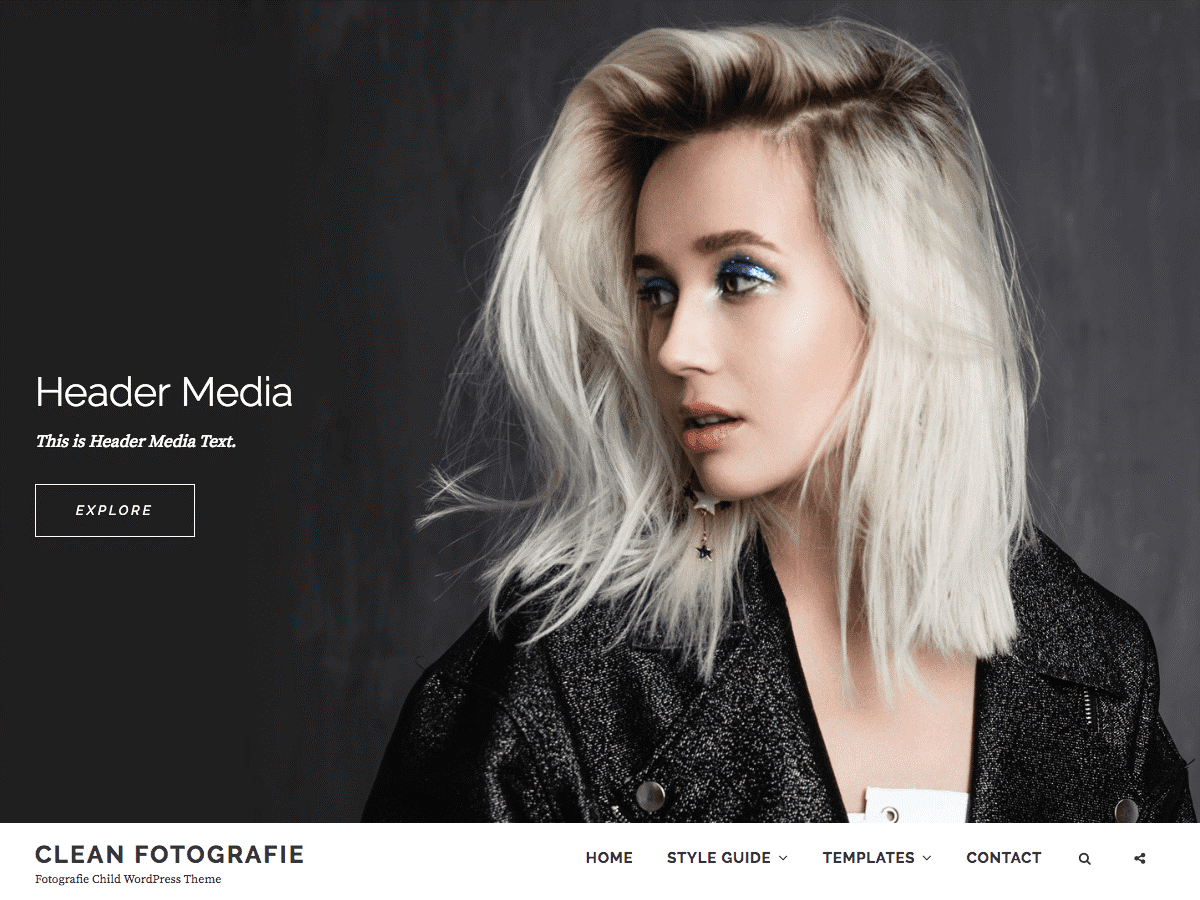 Want to create a landing page to instantly win over your audience? A larger header section is probably what you're looking for. Choose from your best designer pictures to load on the header and write a catchy CTA.
Clean Fotografie does not contain a menu because it has a perfectly functioning interface in the footer area. It has a clear interface that makes navigation easy. Multiple portfolio layouts, blogs, built-in social sharing, and more features let you endless customize the website to your specifications.
Active Installations: 2000+
Ratings: 5/5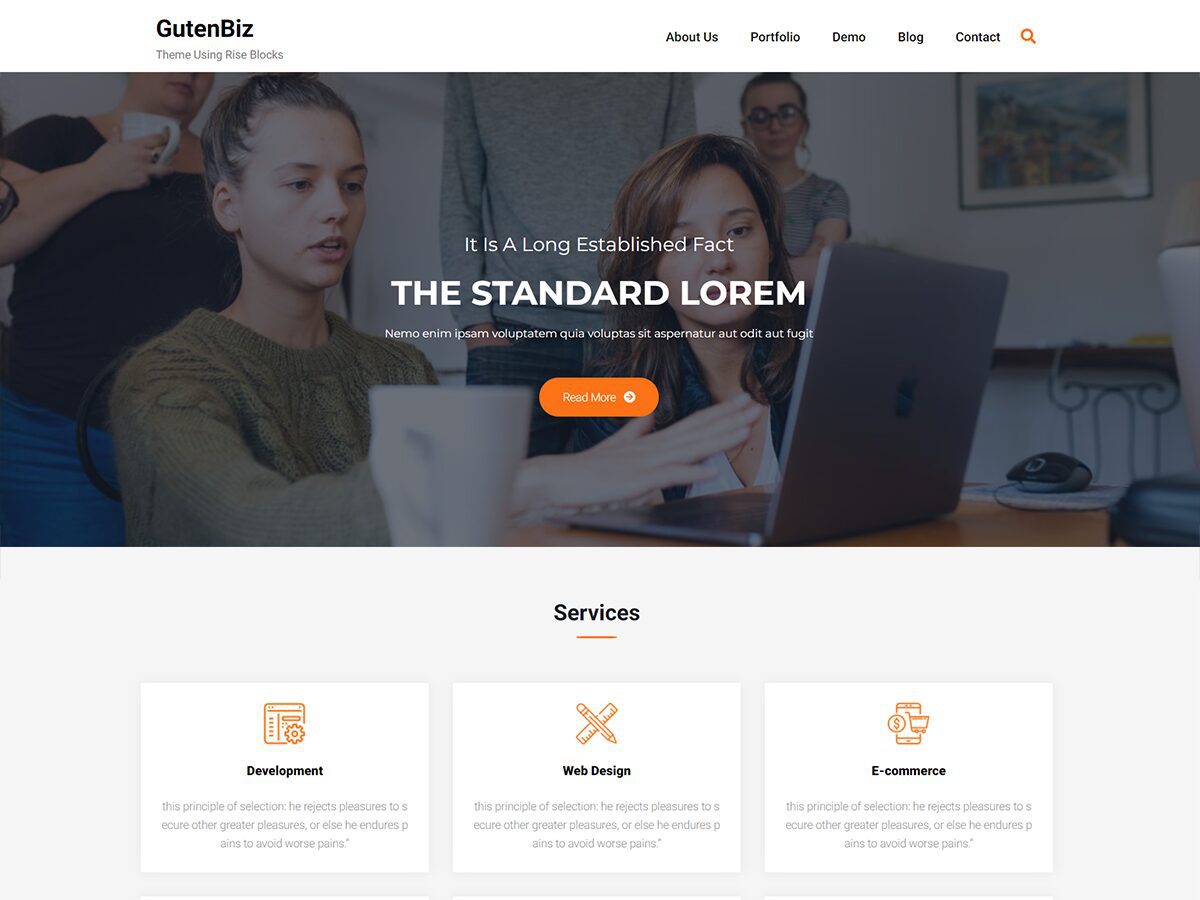 Gutenbiz Theme is fully compatible with Gutenberg WordPress Blocks. With Rise Blocks and Gutenbiz, you are able to create unique and beautiful layouts for your blog or websites with zero knowledge in coding.
If you are a non-techy person, you can easily modify the theme and design using Gutenberg Blocks, Elementor Page builder, SiteOrigin Page Builder, Beaver Builder, WPBakery, etc. Responsive web layout for all popular small devices, tablets, and large-size screens.
To create a clean and elegant online website, you can easily modify the sections like Featured Slider, Banner, About, Services, Icons Boxes, Counter, Portfolio, Team, Testimonials, Mega Menu, etc. It supports the most popular plugins like Jetpack, Yoast SEO, contact form 7, Rise Blocks.
Active Installations: 900+
Ratings: 5/5
Have several portfolios to share with your clients? Fotografie helps you draw your client's attention to items to your most captivating accomplishments from the portfolio.
Your business name along with a call to action is sandwiched between two layers of visually appealing images (sources directly from your gallery). A clean, clutter-free interface makes it easy to navigate from the landing page to other areas of the website.
Active Installations: 8000+
Ratings: 4.5/5
Portfolio Lite is a cleverly coded, robustly reliable, and elegantly designed theme that lets you set up your portfolio in minutes.  This theme lets you become creative and inventive without the need for any web development experience.
Portfolio Lite creates a slideshow from your pick of pictures and displays them vertically and horizontally. To help your audiences properly navigate through the website, a robust menu makes it instantly clear what each button leads to.
Active Installations: 2000+
Ratings: 5/5
Maker simplifies website design and takes minimalism to the next level. If you or your audiences are fans of the minimalist designs, then you can't go wrong with Maker.
You can showcase your best work just as soon as your client's browser has finished loading all the images (which only takes seconds thanks to the brilliant use of code). It is filled with features and enticing menus to create a sound infrastructure that will impress clients on both mobile and desktop browsers.
Active Installations: 1000+
Ratings: 4.5/5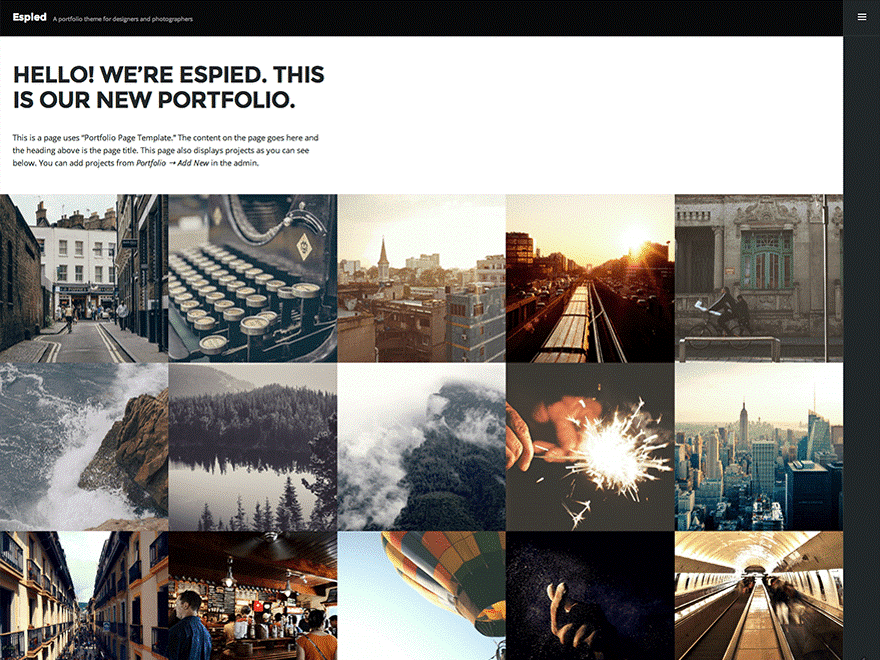 Espied has endless choices for colors and lets you showcase all your best images in a boxed layout that can be modified with a custom color, image, or pattern.
Espied incorporates full HD images with stunning effects but without slowing down your website in the process. This feature appeals to both search engines and audiences alike.
The menu, for the most part, is hidden from view, which could make things a little confusing for clients. But you can always use pop up messages (such as live chat) to help audiences navigate.
Active Installations: 900+
Ratings: 4.5/5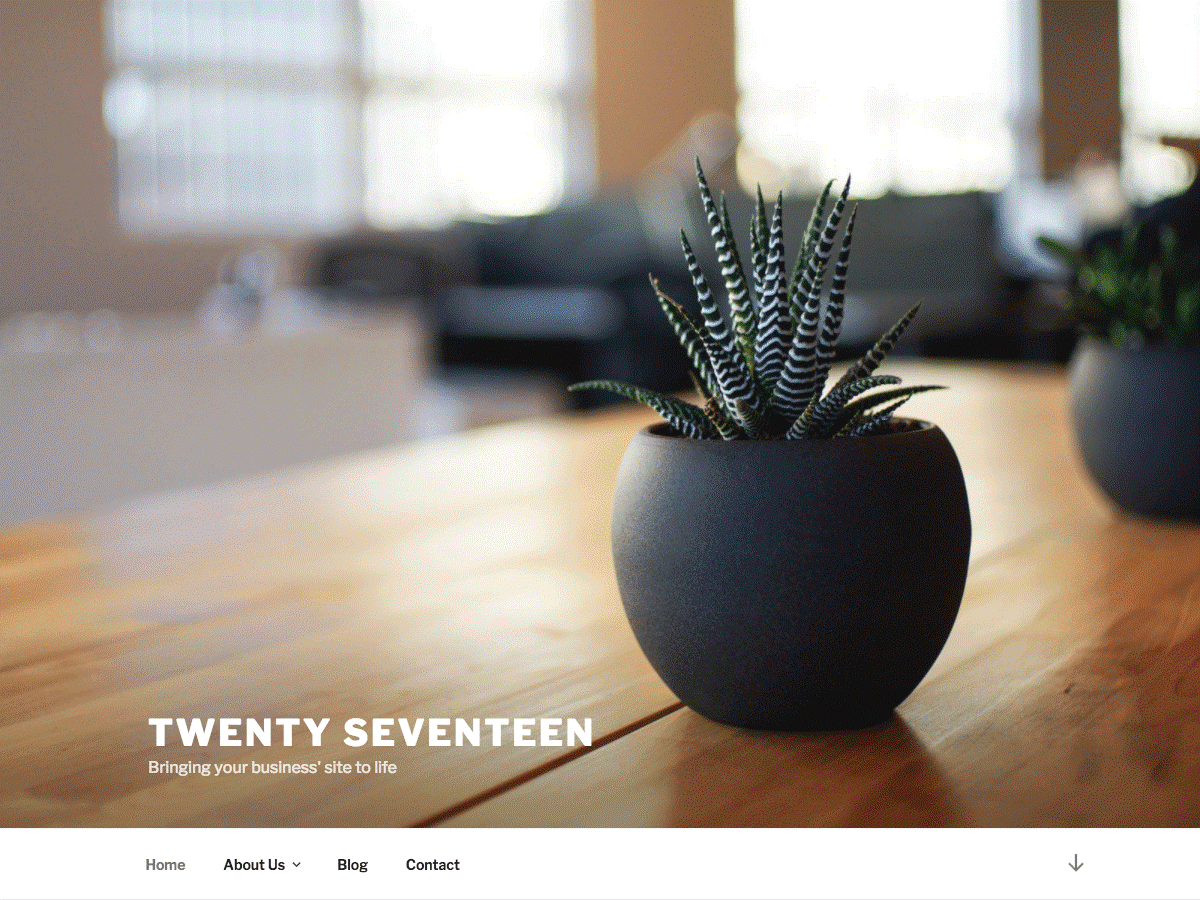 This is arguably one of the first WordPress themes you will encounter when you install a fresh copy of WordPress.  Most WordPress websites already have Twenty Seventeen installed from the get-go. From there, it's just a matter of applying a different coat of color to them and choosing a high-quality image for the header.
Twenty Seventeen may seem simple at first, but once you get to know of the endless widgets, logos, social menus, the slick parallax effect, and content sections, you'll realize it packs quite a visual punch. The best part is that Twenty Seventeen is completely free to use.
Active Installations: 1+ million
Ratings: 4.5/5
Want to explore more free WordPress themes to create professional and visually stunning websites? Check out evisionthemes.com.