Summary: Install and setup the Contact form 7 plugin with the simple steps mentioned here. Additionally, you can add the best extensions and customize the contact form according to your requirements.
Introduction
Contact form 7 plugin is the oldest and famous contact form on all over the Internet. It is widely chosen and recommended as the best contact form plugin for WordPress sites. Also free, the contact form has earned a good name since 2007 and is considered as the top.
However, many people find it hard to set up the Contact Form 7 in their WordPress websites. Here I will instruct you step by step on how to install this plugin properly.
How To Install & Setup The Contact Form 7 In Your WordPress Website
1. Install Plugin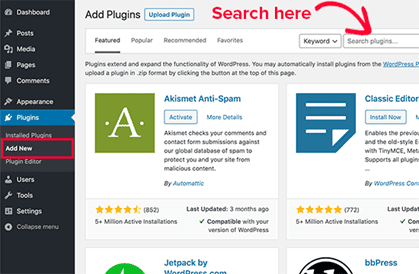 Log into your WordPress website with Username or Email ID and Password. To install the Contact Form 7 you will have to install the plugin on your website first. To do this:
Go to the WordPress Dashboard
Click on Plugins on the left corner
Click on Add New option
2. Install Contact Form 7

Continuing Point No.1 once you click on the "Add New" option a search bar gets displayed on the screen. On the search bar type Contact form 7 plugin. It automatically displays the Contact Form 7. Then you need to:
Click on Install
Click on Activate
No sooner the Contact Form 7 is activated you can get it into the Contact area on the dashboard of your WordPress site.
3. Setup Contact Form 7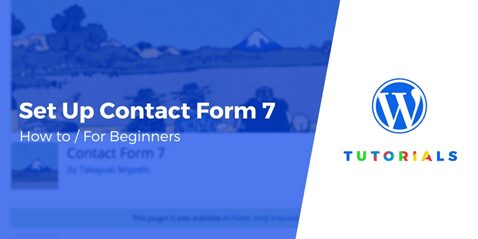 To set up the Contact Form 7 you need to:
Click on the option Contact
Click on the Contact Forms
In this panel, you can manage many contact forms at a time. You can also get the default form tagged as "Contact Form 1". It comprises all the basic fields you may require. The form is already prepared to use and you can insert it on any page & post on your WordPress website.
You can create your contact form by clicking on Contact > Add New.
How To Edit The Contact Form 7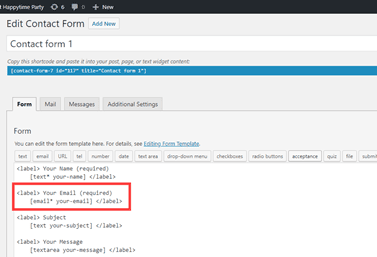 If you want you can edit Contact Form 1 in your way. As you can see in the picture you can use the "Editing Form Template" for the same. Don't panic seeing the coding as you can use these models for editing.
Say for example there are 4 fields you can see in the default Contact form 7 plugin including:
Name
Email
Subject
Message
But if you desire to add the contact number you can do that as well. By pressing the button "tel" you can add the field into your default form.
How To Work With Mails & Messages In The Contact Form 7
1. Mails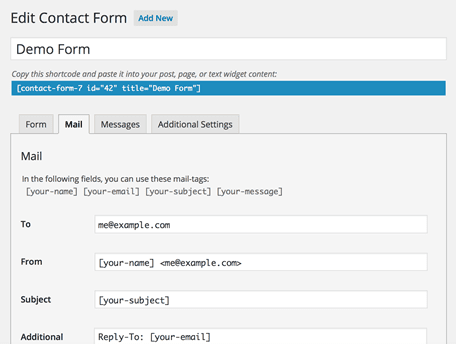 This tab is easy to use. You can use shortcode labels from past forms and format them into readable mails. By doing this you are helping yourself.
When your visitors use the Mail tab in the contact form the submissions won't come to you as gobbledygook. You can even set up email addresses and headers here as well.
2. Messages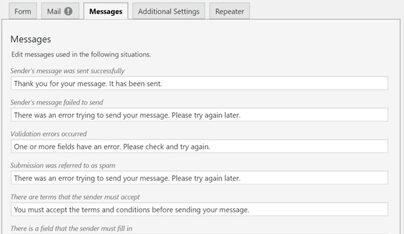 Contact form 7 plugin stores all your front-facing messages intended for your users. Some examples include:
Thanks For The Message
Your Message Is Of Immense Importance To Use
Accept The Terms & Conditions
Sorry etc
Contact Form 7 further helps so that none of your messages is/are shown as spam. This is because of the free edition of the plugin.
How Do The Extensions Work In Contact Form 7
Yes, you can do some awesome extensions in the Contact form 7 plugin. Here are a few of them:
1. Conditional Fields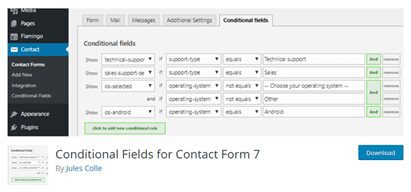 This is one of the important extensions in Contact Form 7. Going into the "Contact" page you can click the "Conditional Fields" and it appears into the Contact Form dashboard.
Rather than displaying a similar form to all irrespective of the device they are using give them a specific form best suited with their platform. You can create any form as per your desire than just for your contact list. And if you desire to add feedback forms you can easily do using this free plugin.
2. PayPal + Stripe Add-On

Add PayPal + Stripe for free. This plugin can be your best extension on the dashboard. For all items you sell, upon form submission, the buyers will be redirected to the payment page. This will help you secure buyers' transactions online and enjoy the advantage of selling the items with just a few clicks.
3. Simple CAPTCHA

Yes, I know visitors have a disliking for CAPTCHA. But honestly speaking this proves an effective technique to secure your WordPress website against all threats. "Simple CAPTCHA" is designed by the same website developer who has developed the Contact Form 7. So there is no doubt this is something you can believe upon blindly. And yes this extension comes for free.
4. Contact Form 7 Skins
If you desire to use your WordPress website completely and look for several options for styling it then this is the best. Not only this extension is available for free but also the premium version gives you an ample number of add-ons.
The benefits you can enjoy with this extension are:
Many new skins and templates for your website
Has the capacity to break the contact forms into many pages &
Advanced Styling Alternatives
With this extension, you can design the site as per your will without seeking the assistance of a website developer.
5. CF7 Autoresponder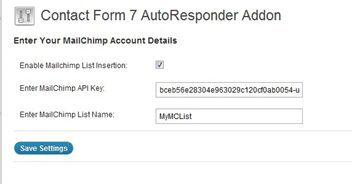 Premium users can enjoy an advantage with this extension. If you desire keeping email contacts then this is something you can try out. Being a useful plugin CF7 Autoresponder allows you to create and save all the leads for your favorite email services.
It works with setup forms too and you don't need to develop anything new with this awesome extension CF7 Autoresponder. Just ensure it is aware of their existence and you enter into the world of business literally.
Contact form 7 plugin helps you manage many contact forms, customize them according to your specifications, and flexible mail contents with easy markup. It gives better support to users.
Reference source
Thank to WordPress.org
Related articles
Learn about htaccess & 5 problems related to it