Nowadays, people prefer online news websites over newspapers. This preference has led into the birth of several news sites and magazine sites. Several news sites use WordPress: TechCrunch, CNN, Forbes, The New York Times, etc. It is very easy to add content to your news site if you are on WordPress. The problem comes when you need to select a premium / free news WordPress theme for your website.
News and magazine websites are a pool of information. Your website has to present the information (news / posts) in a well organized and attractive manner. Otherwise, your visitors may not find what they want or even dislike your website. Therefore, all the hard work you put on creating content may become worthless if you use a theme that is not well organized. And many free news WordPress themes are not good enough to build an attractive news site. However, this doesn't apply in the case for eMag.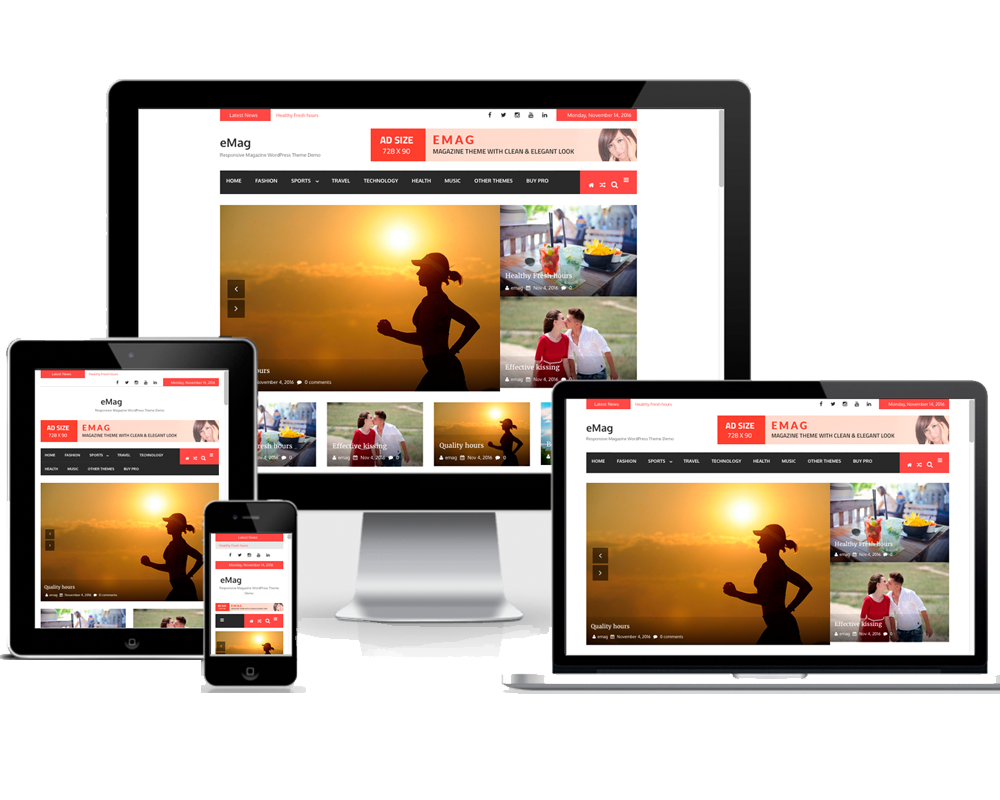 What does our free news WordPress theme offer?
eMag is a free news WordPress theme that has a well-organized beautiful design to help you start a professional looking news website. The theme has responsive design, so, the contents of your website will look elegant on any device. You can use the theme for any news niche such as tech, politics, sports, games, fashion, etc. Moreover, you can use eMag to build a magazine website. Likewise, with the available features you can optimize your website through clicks only and won't have to write any code.
You can easily customize your website by using just the customizer API. eMag lets you customize favicon, logo, title, tagline of your website straightaway. Moreover, there is enable/disable option in each customization option. You can modify the font family, font colors in few clicks. eMag is translation ready. It also includes the features of breadcrumb, pagination, and back to top, so that the users can easily navigate through the website.
eMag contains different sections which can be used for different individual purposes. These sections help to keep your magazine / news website well organized. Moreover, when used appropriately, these sections give a very professional and an appealing look to your site.
Sections in eMag
Header
The header section is the top most section of the theme. It contains the logo, title, tagline of your website. Moreover, you can find the menu of your website in this section as well. eMag features home button, random post button, search button alongside the menu bar. Additionally, you can add social share options, date in the header section. Breaking news is also displayed at the top.

Feature Slider
This slider shows the feature image of a post and the image acts as a link to the original post. This is very eye-catching. You can use this to show the recent important news or all the news of the day or advertisement.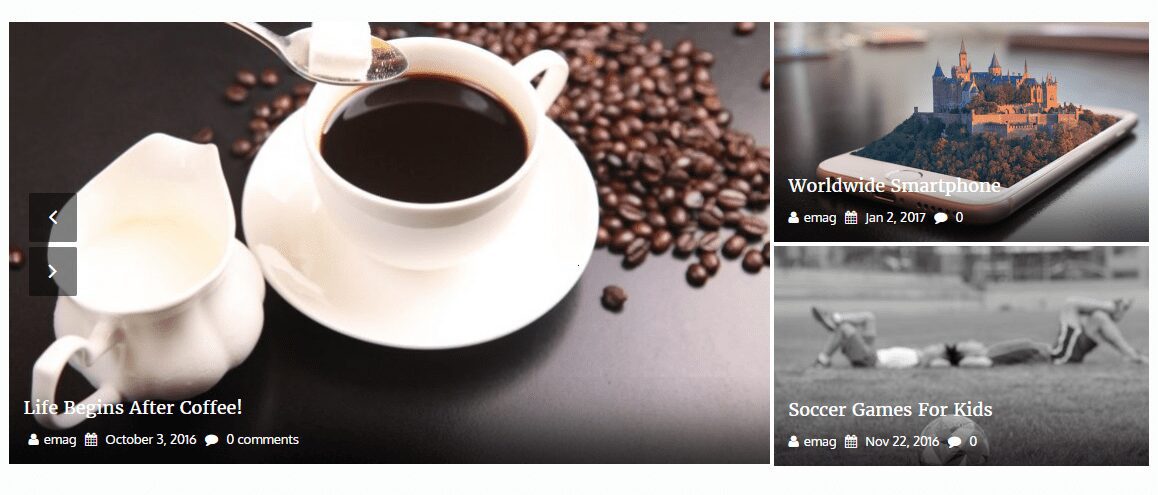 Featured News
Feature News displays stories in a grid layout (2 stories in a row). Featured image of the featured news is shown which links to the original post. An excerpt from the post, and the tags associated with the post are displayed as well.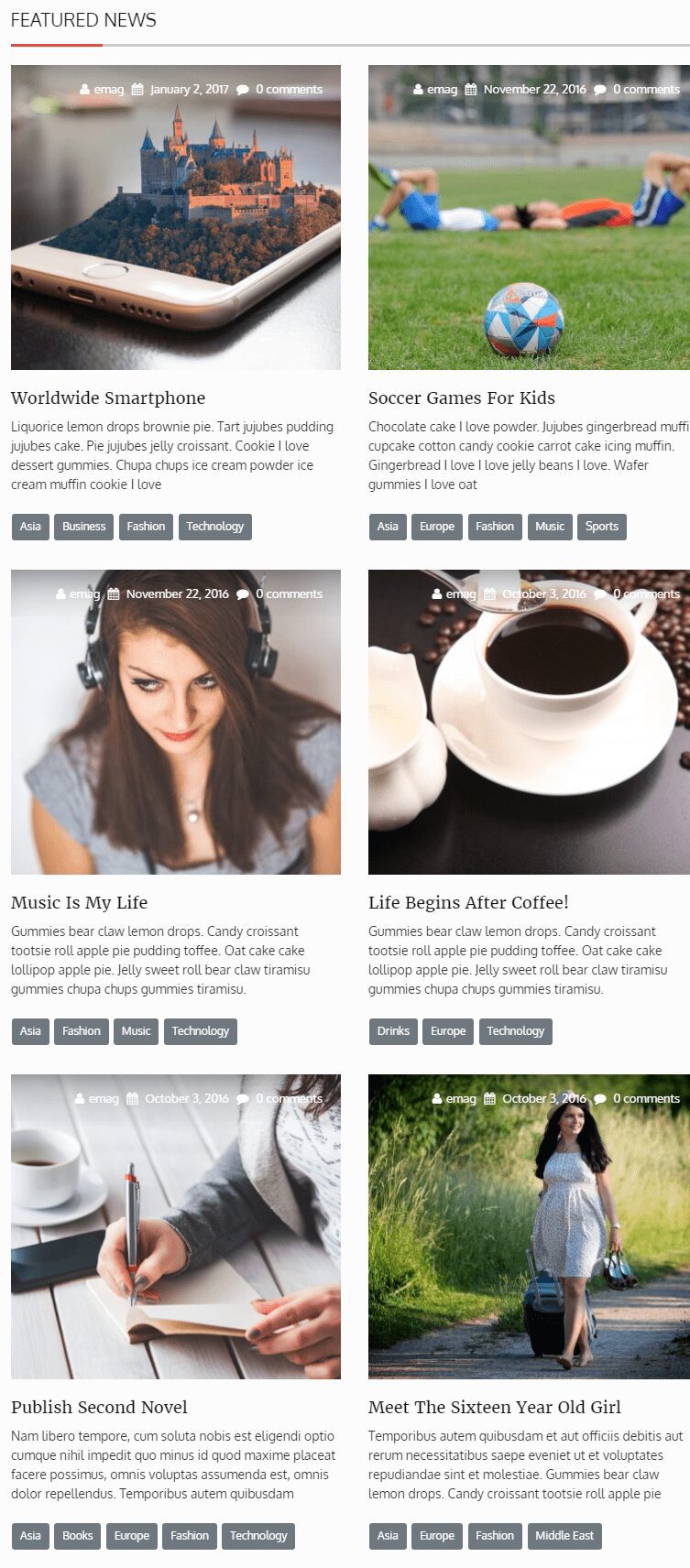 Sidebar
In the sidebar, you can show the contents that are less important. It can include anything: advertisement, recent posts, social media plugins, video gallery, etc.

Latest News
This section automatically displays the most recent posts you have published.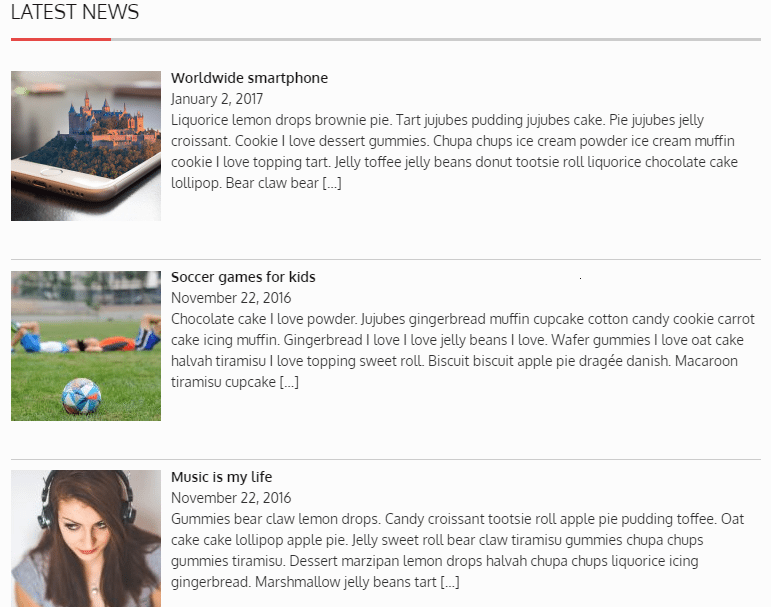 Footer
eMag supports 4 columns in the footer. You can display advertisements, popular news, categories of news etc. It is a good idea to leave your contact information in this section.

In Conclusion
eMag is easily customizable free news WordPress theme and even someone who has no technical expertise can manage the content and options very efficiently. If you get stuck anywhere, you can refer to the documentation of the theme. If the documentation is not enough to solve your problem, you can contact us for support. For dedicated support and many other options, please try our premium theme: eMag Pro. You may also like some of our other free themes.
Have you tried eMag yet? If not, download it right away and share your experiences in the comment section below.