Speed and performance are crucial to enhancing the user experience for every website owner. While there are several ways to improve website speed, none are as efficient as the Hummingbird performance plugin.
Hummingbird plugin is an optimization and caching plugin that can end up being an all-in-one tool to improve your website performance. From caching to SEO to backup, the Hummingbird performance plugin offers everything.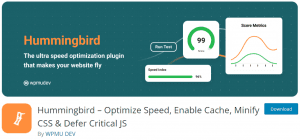 The plugin may be new in the market, but the developer team (WPMU DEV) behind it isn't. Currently, the performance plugin is optimizing the speed of over 1 million websites and has over 600+ positive ratings.
Ways to Improve your WordPress website with Hummingbird performance plugin
Hummingbird can help you improve the performance of your website in many ways. With this plugin, you will not need any additional tools. Let's have a look at five main ways in which the Hummingbird performance plugin assist you:
Take advantage of different types of caching
The best way to improve your website's performance and speed is to enable caching. Hummingbird performance plugin allows you to choose from four different types of caching: Page Cache, Browser Caching, RSS Cache, and Gravatar Caching.
WordPress caching is all about saving the website data at the most convenient location. So the server can retrieve and access it quickly when someone visits your site. You can email different types of caching through the caching tab present within the plugin.
The plugin also provides the advantage of Database cleanup. It allows you to remove the unnecessary elements from your database and give reports on the database performance setup.
Hummingbird performance plugin offers powerful GZIP compression
GZIP compression is less complicated than the .zip extension, but it is way more powerful. It allows you to make your files load faster by compressing them into a smaller size. The best thing about this compression is that it doesn't lose any data in the process.
Don't go into the details of how GZIP compression works because it is a slightly complicated process. But you don't need to understand every complicated process.
With the hummingbird performance plugin, click on the GZIP compression tab to enable compression for HTML, JavaScript, and CSS files. Before hitting the apply button, make sure to choose the type of server you are using.
Help your site perform its best with minification
With the minification feature, you can eliminate unnecessary data from your code and optimize your website's performance. Maybe you don't know that the less information sent between serve and browser, the less time it will take to load.
Go to the Asset optimization tab for enabling the minification feature. The Hummingbird performance plugin scans all your files and allows you to optimize the ones you want.
If you are familiar with CSS, you can move a few code files to the website footer. It is the ultimate way to increase the page speed and loading time. If something goes wrong, you can reset everything with one click.
Run website performance scans with hummingbird plugin
By running performance scans on your website, you can identify the files that are slowing it down. No matter what techniques you are applying to improve your performance, it is essential to keep an eye on it.
Hummingbird plugin allows you to run a performance test on your website. Once the scans will be done, you will get the score for each item. You can click on improve next to get some tips to increase your score.
Hummingbird performance plugin comes with built-in Cloudflare integration
Hummingbird allows you to control the Cloudflare caching right from the plugin. You can add the Cloudflare API key and configure it right away. In short, the Hummingbird performance plugin makes your website super faster at no cost.
How to install and configure your hummingbird performance plugin?
We have explained what amazing results you can get with the best optimization plugin, and now it is time to show you that how to install and configure the hummingbird optimization plugin.
Install the plugin
How you install the WordPress performance plugin depends on what version you are using. If you are going for the free version, go to the WP admin dashboardà Plugins à Add New, and search for the Hummingbird performance plugin.
For the premium version, go to the official website of WPMU DEV. You have to buy their membership to use Hummingbird pro.
Configuring the Caching
Go to the Hummingbirdà Caching and then enable the module. Once you will enable the tab, there are a variety of settings available to you. The three main options are:
Cache preload – don't let the visitors wait at your website to generate the cache. You can preload the cache to make your website respond faster.
Mobile caching – you can enable cache for mobile users with this feature.
Exclusion – This feature allows you to exclude cookies, URLs, and pages so that you won't encounter any conflicts.
You can enable different caching options available in the plugin. Once you are done with the configurations, click on the Save settings options.
Combine and minify your files
To make your website load faster, the combination and minification of the files is a crucial step. Hummingbird performance plugin comes with this built-in feature like any other WordPress optimization plugin.
Go to the WP adminà Hummingbirdà Asset Optimization and enable this module. After this, the plugin will run a scan to give the list of all files that you can optimize.
Hummingbird performance plugin pro
Like any other WordPress plugin, you can't but the Hummingbird plugin. The process is a little different. You have to buy the membership of the WPMU DEV to get the premium version of this WordPress performance plugin.

Some of the highlights of the Pro version are as follow:
Cache preloading
Hosted file optimization
Uptime monitoring
Full-page caching
Easy and advanced Modules
Final Thoughts
Hummingbird performance plugin is an all-rounder caching plugin with all the features you need to optimize your website performance. It has a friendly user interface with 24/7 support. Maybe the price disappoints you, but we still recommend trying this optimization plugin for all your caching needs.