Gone are the days when there are not many Email Service providers (ESPs) in the market for WordPress-Powered websites. Today, we are loaded with options, and choosing the best one bit tricky. While we have so many choices now, don't forget the first-ever plugin for WordPress, MailPoet.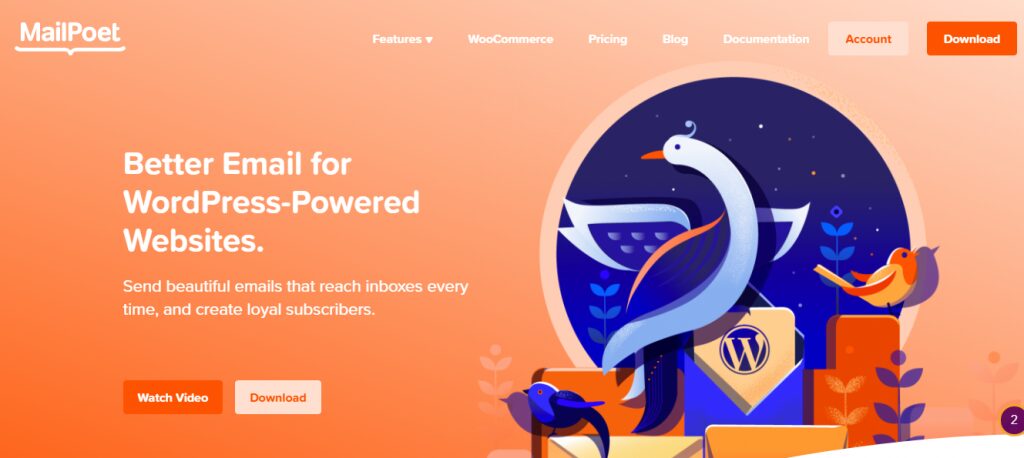 What is MailPoet?
MailPoet is the first-ever email WordPress plugin. It is the go-to-ESP for WordPress websites. If you are taking it as another marketing tool to send emails to bloggers, you are wrong. It offers features for other WordPress sites, as an e-commerce store.
The email plugin offers WooCommerce integration and abandoned cart email features. Whether you are own a WordPress site or an e-commerce store, it works for everyone.
MailPoet Core Features Reviewed
More than 3 million people around the world are using MailPoet to make email happen every day. Whether you have just started the email marketing journey or you are a pro at it, the email plugin allows you to grow your audience, deliver beautiful emails, and increase subscriber's loyalty with its a lot of features.
Here are the top features of the MailPoet

Communication
1. Email Newsletters
Mailpoet allows you to connect with customers and engage your subscribers with beautiful email newsletters. You can easily create the Newsletters with only drag and drop without any coding.
This feature has more than 50 builds in templates to create beautiful newsletters. You can quickly add posts, ages, images, and products to the letter.
2. Welcome Emails and Last Post Notification
Add a spark to your connection with new subscribers by giving them a warm and big reception with automated welcome emails. You can add a welcome email template from scratch or customize the already available templates.
MailPoet lets you notify the website audience with the latest blog posts without any hassle. The Automatic Latest Content block will pick the recent posts directly from your WordPress database and send the latest posts email quickly.
3. WordPress Email Templates
Stand out in your audience inbox with 50+ build in WordPress email templates and share updates with your customers in no time. You can organize and format any template with customizable drag and drop options.
WooCommerce
1. Email customizer and abandoned cart emails
Make your WooCommerce email shine with hundreds of MailPoet's WooCommerce email template customizers. It is time to break the norm of using standard email templates for e-commerce stores.
You can rescue purchases and encourage customers to complete their shopping with abandoned cart emails. Set up as many emails as you want, and once the customer has completed the purchase, the emails will be canceled automatically.
2. First purchase
Greats service help to get loyal customers for a lifetime. Now, appreciate your customer's first purchase by thanking them automatically with WooCommerce Thank You email templates. Set the time after purchase, design the template, and left all on the MailPoet.
3. Purchased this product and category
It is a perfect tool to promote new products, encourage reviews, and category discount alerts to the customers. Set up automated WooCommerce purchased follow-up emails to customers who purchased a product earlier.
Capture
1. WordPress signup forms and users lists
Now, it is easy to create custom signup forms to use for a variety of purposes. MailPoet offers different types of form to add at the bottom of any page with iFrame, PHP, and its own Gutenberg block.
The plugin has made it easier for you to email users in bulk to communicate updates, news, and any announcement.  WordPress pre-created user list has the contact address of all your subscribers.
2. Inactive subscribers and WooCommerce customers list
MailPoet is the only email service provider that automatically removes the inactive subscribers from the list. It will result in increased deliverability rates, improved image, and uplifted click-through rates.
Take advantage of customer's attention at the checkouts and ask them to sign up for forms to get further marketing emails. All the subscribers will be added to the WooCommerce customer's list to tailor your marketing campaign.
3. Segmentation
More than 75% of the recipients are more likely to click on the emails from the segmented campaigns than unsegmented campaigns. The plugin offers list segmentation to enhance the subscriber's experience and improve the email stats.
Advanced sending service
1. SMTP for WordPress
One amazing feature of the MailPoet is that it doesn't require an extra WordPress SMTP email plugin. It offers a 99% global delivery rate and makes every email reach directly to the inbox instead of spam.
2. Email sending infrastructure
Sending emails directly from WordPress is not a reliable idea.  But when you use their advanced email sending infrastructure, you can send every email fast, track email journey and manage bounces smartly.
What the MailPoet's premium version holds for you?
If you have reached the limit of 1000 subscribers, the plugin will continue to add the new members to the user's list, but you can't send them the emails. Why? After 1000 subscribers, you have to pay to continue using Mail Poet.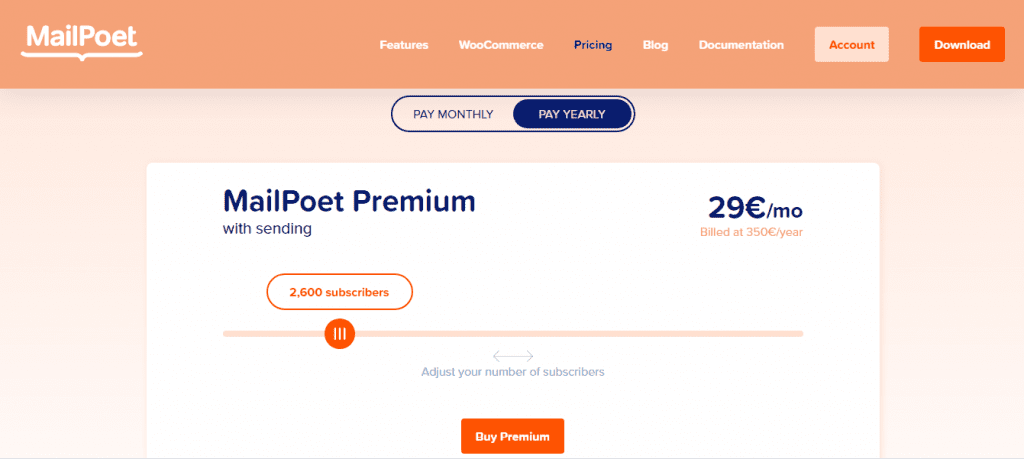 Upgrading to the pro plan will provide you with the following benefits
Track how many subscribers are opening the emails and the links they are visiting
You can use advanced analytics to learn more about the subscribers.
Get help from their dedicated and supported team.
Upgrade your plan to get premium features, visit the MailPoet account go to the subscription page, and upgrade the plan. The price will go up as your number of subscribers increase.
What are the shortcomings of the email plugin?
From the above-mentioned features, we can say that MailPoet is a robust tool to handle daily emails. But it has some shortcomings too.
It is not an independent tool. You can only use it with WordPress. To use it for e-commerce, you have to set up a WooCommerce store.
Many ESPs provide Facebook integration to retarget subscribers automatically. MailPoet doesn't offer this feature; you can only retarget the subscribers who made a purchase.
You can create any type of form with it but not a landing page.
Is the MailPoet the best Email WordPress plugin?
If you are a WordPress and looking for an ESP, which handles emails with unparalleled speed and performance, MailPoet is an ideal choice for you.
It is perfect for running effective email marketing campaigns without leaving your WordPress dashboard. You can look for other alternatives to get access to advanced features.