WordPress.com is one of the most popular website builders among web developers. It offers many out-of-the-box features and flexibility via themes and plugins, and one of these is the WordPress Jetpack plugin.
Jetpack is one of the first and rated plugins which is available in the WordPress official directory. With over 5 million installations and thousands of positive reviews, it is one of the popular plugins in the industry right now. Interestingly, many developers depend on Jetpack to maintain their websites (Thanks to the wide range of features).
What exactly Jetpack plugin is?
Jetpack plugin is the suite of productivity, optimization, and security tools. It is developed by Automatic (the name behind wordpress.com), and you can use it on all WordPress websites. In simple words, it is your friendly-nearby store from where you get all the website tools and features.

The plugin allows you to manage your website security, performance, and management from a single platform. From protecting your website from attacks to checking the grammar to promoting it on different channels, the Jetpack plugin can do everything to make you happy.
A short overview of WordPress Jetpack plugin modules and features
Jetpack plugin has a variety of modules that add various functionalities to your site. All the modules are activated by default, but you can change the setting and deactivate the modules that you don't want to use.
Some of the main modules of the plugins are:
• Security
• Discussion
• Writing
• Performance
• Sharing
• Traffic
Each module varies in functions. Some of them perform very significant features and while others provide minor such as likes and hover cards.
Jetpack plugin features explained in detail
Let's have a look at some of the prominent features of the Jetpack, which make it everyone's favorite.
1. CDN (Content Delivery Network)
Search engines can penalize your rankings for having a slow site load. CDN makes your site load faster and saves the server's bandwidth resources. It is free, doesn't require any signup, and gives unlimited CDN bandwidth.
2. Social media sharing
Social media is a platform to share your content and reach a wider audience. Jetpack plugin comes with social media share buttons that allow visitors to share your content in few clicks.
3. Images lazy loading
The lazy loading image feature displays photos as a viewer scroll instead of a blank div. This feature helps you when you have plenty of images on the site and don't want to compromise the quality by compressing. It solve many image loading issues.
4. Shortcode Embeds
With Jetpack shortcode, you can embed content from social media into your website directly. The module allows you to embed the elements by pasting URLs in the visual editor.
5. Email subscriptions (Classic editor)
Many visitors visit the site once and never come back. You can convert those visitors into regular readers with a follow blog button. Jetpack will take care of updating them whenever you will publish new content.
6. Automatically block spam
It takes hours and hours to clear spam from forms and comments. The jetpack plugins save your time by automatically removing spam. It means visitors can visit the site without any distraction.
7. Infinite scroll
Jetpack plugin comes with a never-ending scroll. It keeps the site loading new content as long as a user scrolls down. You can configure the feature to load automatically or can provide the visitors a "Load More" button.
8. Jetpack plugin backup and restore
With real-time backups, jetpack saves everything and one-click restores everything when gets online. The plugin's backup happens behind the scene, so you don't have to wait.
9. Simple and powerful scan
With Jetpack, you can stay one step ahead with automatic malware scanning of the threats and get them fixed in few clicks. If the plugin detects any problem, you will receive an email instantly.
10. Downtime alert
Jetpack alerts you about any downtime as soon as it happens. You will receive an email about the downtime alert and when it ends, and how long the site has remained inaccessible.
WordPress Jetpack: Pros and Cons
Jetpack plugin provides its users with multiple advantages, but there are some pitfalls you need to know before making the decision.
Pros
• Wide range of modules
• Perfect compatibility and regular updates
• Free content delivery network for your WordPress-hosted website
• Simple yet powerful security check
• Social media sharing and engagement
• Lazy loading of images
• Endless customization and personalization options
• Get all the wordpresss.com functionality in wordpress.org
Cons
• Possible risks of wordpress.com and wordpress.org linkage
• Slow site speed and unnecessary bloating
Jetpack installation options
There are two ways to install the Jetpack plugin to your site
Installing from WP Admin
• Click on the plugin link and click on Add New.
• Search for the Jetpack and click the install button.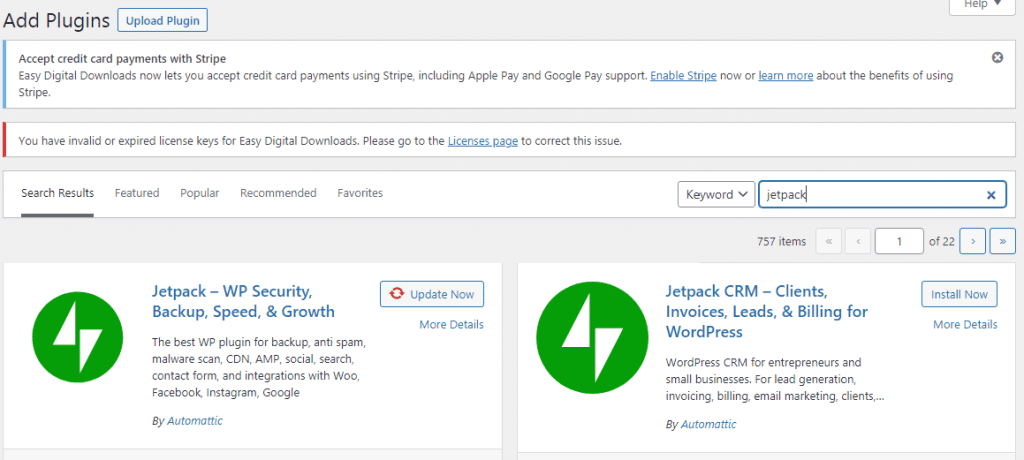 • After activation, you will be taken to the setup process.
• Approve the connection and choose a pricing plan.
• After a successful connection, most of the features will be available by default.
Automatic installation with a price plan
If you purchase a plan, their team will handle the installation and set up the plugin for you.
• Go to the WordPress store and select the plan.
• Enter your site URL and then enter the WP admin credentials.
• After successful installation, you can finish the checkout process.
Security and customer support
No matter which price plan you will choose, the jetpack plugin offers fast customer support. You can contact their teams 24/7, and they will make sure that you will not be left alone with the problem. Resolving the problem can take some time.
When it comes to site security, Jetpack provides you all the possible solutions. Real-time backups, easy restore, span protection, and malware scanning are some of its highlighted features. Brute force protection and downtime monitoring are free of cost.
Jetpack pricing and options
The Jetpack hosting comes with several features and the following options
• Site stats
• Activity Log
• Brute force attack protection
• Downtime monitoring
• Automated social media posting
• Content Delivery Network
Here are three price plans to get the plugin subscription.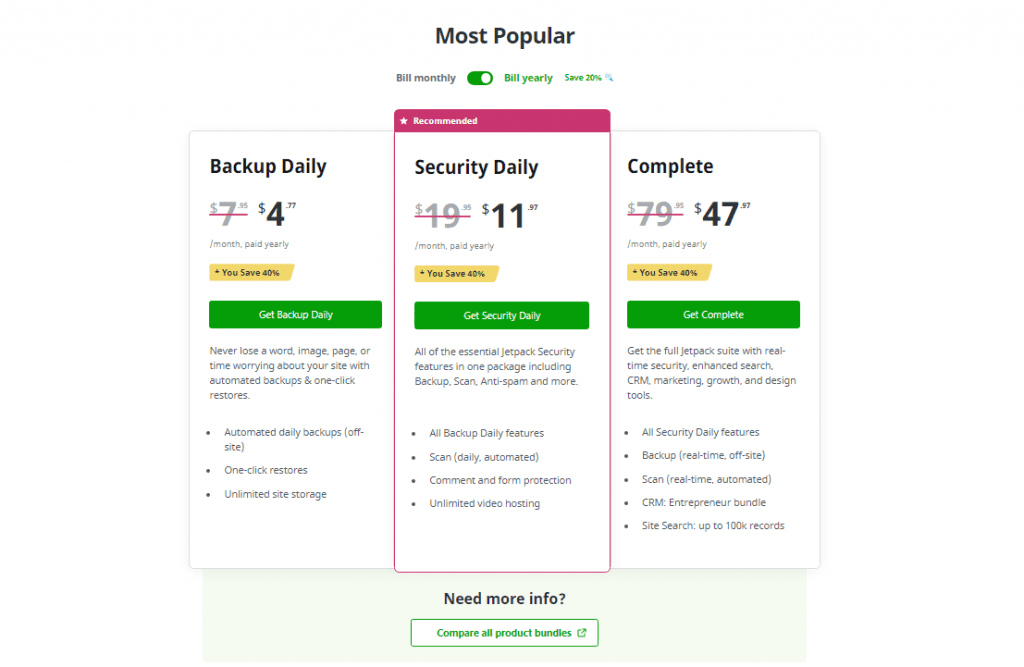 Is the Jetpack plugin worth installing?
It is only you who can decide whether it is good to invest in this WordPress plugin or not. Before getting started with the plugin, ask yourself how many modules you are going to use. If it's one or two, you can get the same functionality from individual plugins.
But if you are looking for an all-in-one solution with better speed, security solutions, and a reliable way to connect with customers, the Jetpack plugin can make it all happen within few clicks.