WordPress is the easiest and one of the popular ways to create a website as HTML and PHP coding takes a lot of time. When it comes to WordPress, one thing which contributes to the ease of use is several page builder plugins, and WPBakery is the most popular among all.
There is an unlimited number of WordPress plugins in the market, but WPBakery page builder, is the best-selling WordPress plugin. It is a drag-and-drop page builder with a lot of incredible features.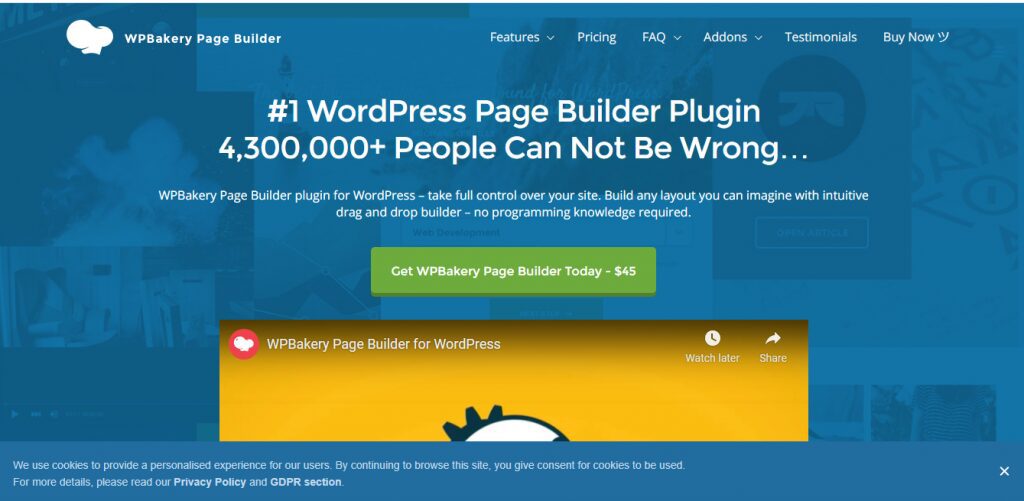 The plugin comes with more than 50 predefined layouts. The page builder allows you to create beautiful pages and posts in no time. It has everything you need to create a blog, portfolio, website, or panel without writing a single line of code.
Prominent features of WPBakery page builder
The number 1 WordPress page builder plugin allows you to take full control of your site. You can build any layout with only drag and drop. There is no programming knowledge required; all the features are only a click away.
Here are some of the popular features of WPBakery, which can make everyone desire it.
1. Front and Back end page builder 2 in 1
You can be the king of content with 2 in 1 builder. Use the WordPress popular frontend editor to build a responsive website. Moreover, it allows managing your content without any programming knowledge.
Besides the game-changing frontend editor, the backend editor is also available in this plugin. It helps you to buildup pages quickly.
2. Suitable for any WordPress theme
WPBakery page builder is a plugin that works with every theme available on WordPress. It helps to build beautiful layouts with a simple and hassle-free process.
You can build the layout on every theme. All you have to do is install the WordPress theme, activate the plugin, and start designing your desired layout.
3. Unlimited content elements, templates, and adds-on
With this plugin, you will have access to 50+ content elements that have been designed by a web professional and offer multiple options to build the desired layout.
If you think available content elements are not enough, there are also several templates and 250+ adds-on with several content elements.
4. Allow building own skin
WPBakery skin builder is the easiest and excellent way to customize the layout of your WordPress theme. Like any other page builder option, the skin builder is available under the settings option.
It has all the options which you require to style the website quickly. Building your websites with skin builder and elements has never been so fast and easy.
5. Online Template library
The page builder plugin provides access to the free premium quality templates to use for your website. You can access the template library with the page builder license with an unlimited download limit.
Click the template you want to use, add it and replace the content with your own, and choose to publish.
6. WPBakery page builder APIs
You can teach WPBakery page builder how it needs to work with new content elements. You can extend the page builder plugin in only a few minutes with the help of APIs. It allows you to modify the default content elements or add shortcodes to the interface.
7. An advanced grid builder
The plugin comes with a bundle of advanced grid builders and elements. It is a treasure that allows displaying different content types like portfolios, media, posts, and even custom posts. It is an amazing addition to the most popular WordPress plugin.
To make it easy for you, there are four different grid groups:
• Post Grid
• Post Masonry Grid
• Media Grid
• Media Masonry Grid
8. Develop responsive and mobile-ready layouts
To display your content on mobile and display, there is no extra programming and coding required. WPBakery page builder plugin can do it for you.
It provides you the freedom to control the stacking, defines the offset, and you can also control which elements you want to hide on a specific device.
9. Get professional support
Want to get help and high-quality dedicated support with your page builder plugin? The support team is available from Monday to Saturday to resolve any issue.
It helps you to solve any issues and get a response in a short time. Keep your output on track with an amazing WordPress plugin.
Install and activate WPBakery page builder plugin
WPBakery page builder plugin comes with multiple tutorials and extensive documentation to make things easy for the users. The plugin doesn't differ from any other plugins installed. You might be quite familiar with the process.
If not, here some easy steps to follow:
• The plugin is available on the market places for WordPress at an affordable price. CodeCanyon is the best place to buy a plugin license.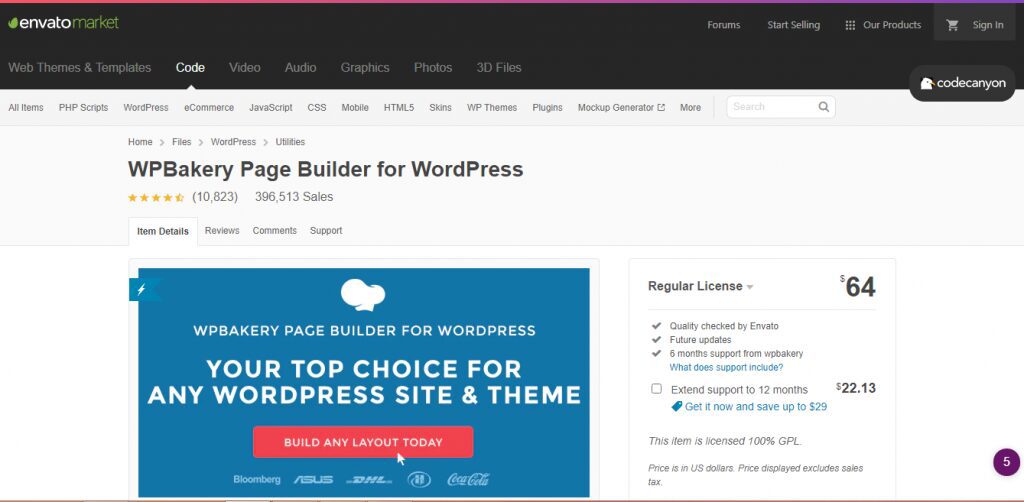 • You have to download the zip file and extract it. Look for the file named js_composer.zip.
• Now, go to the WordPress serve and choose Plugins > Add New > Upload Plugin. Select the js_composer.zip to upload it.
• Choose the install button to initiate the installation process. Press the activate button to start using the WPBakery page builder plugin.
Learning how to use the number 1 WordPress page builder plugin is an easy and simple process. WPBakery offers a lot of customization and configuration options that you can pull to match your needs.
The plugin already comes with a well-thought configuration setup, but it supports many other responsive designs and options. You can go to the Settings option available on the welcome screen. Explore different tabs to find out what it holds for you.
Top five WPBakery page builder Add-ons
Here is the list of the best WPBakery Add-ons available on the Envato Market.
1. Ultimate WPBakery Add-on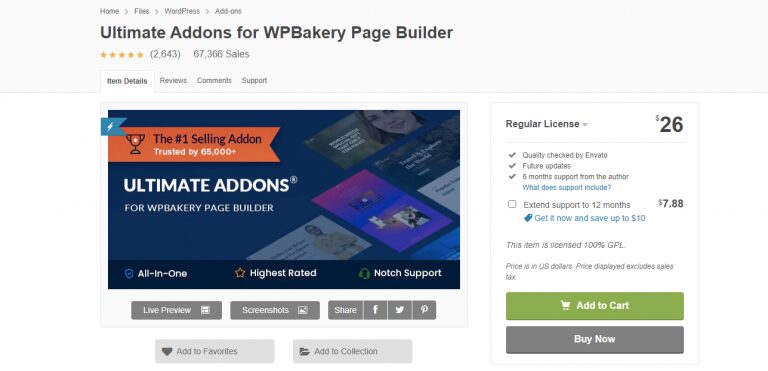 The extension has more than 60,000 purchases because of its awesome features. It has full-page demos, flexible elements, parallax, video backgrounds, video tutorials, and best support.
2. Composium WPBakery Add-on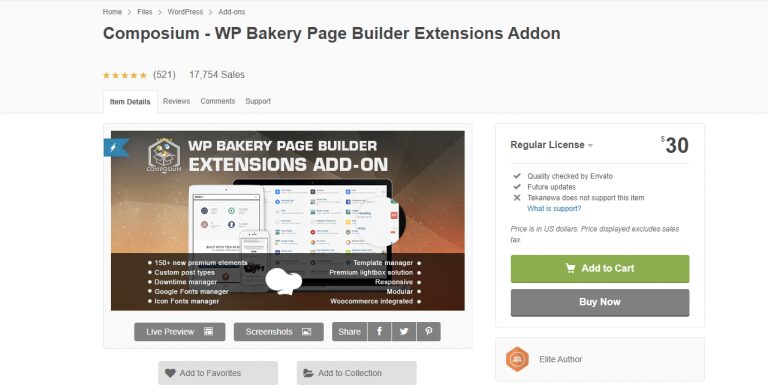 Composium is the bestselling extension available for WPBakery. It comes with a responsive design, font manager, fast online support, widget builder, modular system, and many more.
3. Massive WPBakery Add-on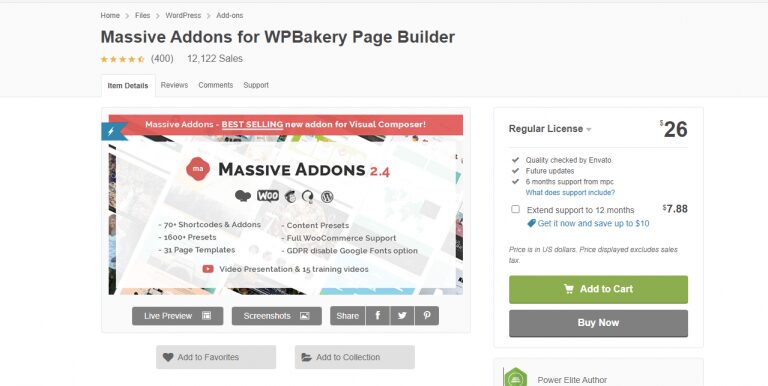 The massive add-on is compatible with all themes which support WPBakery 4.7+. It has many interesting elements, including template installation, WooCommerce support, and 1800 predefined preset.
4. WooCommerce WPBakery Add-on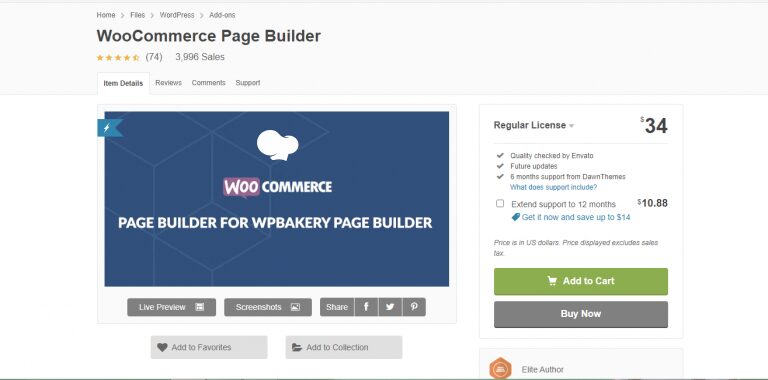 The plugin allows you to customize the WooComerce site. You can create any layout without any coding knowledge. It is user-friendly, easy to install, and works with any theme.
5. Clipboard WPBakery Addon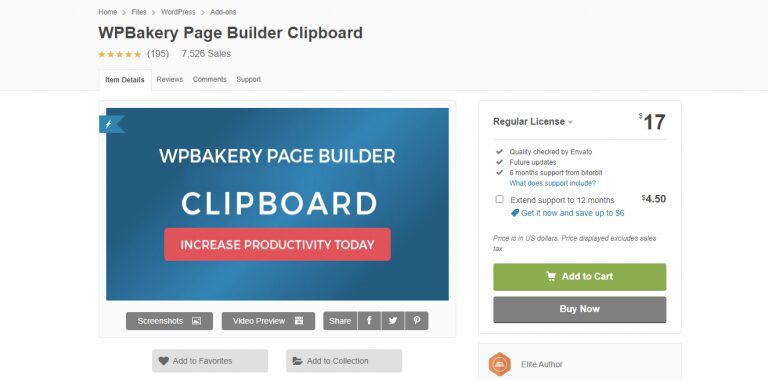 The page builder plugin extension allows you to copy, cut, and paste a single content option, or you can choose a group of stack elements without leaving the backend editor.
WPBakery page builder has changed the way how people design and built WordPress layouts. Today, more than 350,000 users are using it and developed over 2 million websites.