Looking for the easiest way to create beautiful forms for your WordPress website? WPForms is one of the most user-friendly contact form plugins. Almost 4,000,000+ website owners are using it to build forms and surveys.
The plugin offers all the features, which one needs to design contact forms, feedback forms, payment forms, email subscription forms, or any other type of online form. It is easy to use as compared to other WordPress form plugins.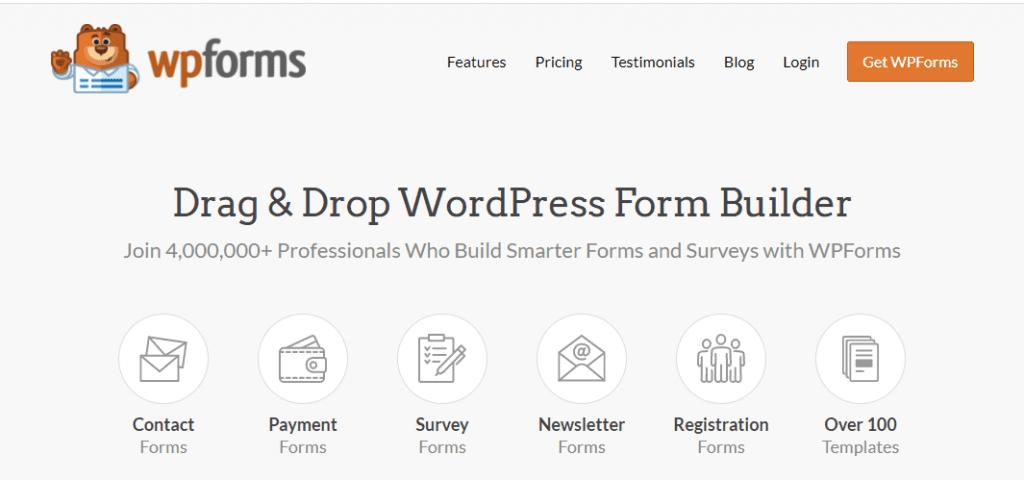 WPForms allows website owners to design smart online forms and surveys with only drag and drop. With their pre-built form templates and the drag & drop builder, you can create a new form that works in less than a minute without writing any code.
What features do you get with WPForms?
WPForms is a pack full of features. From the responsive forms to the templates, you will get everything with it. Let's have a look at some of the prominent features offered by this powerful WordPress form builder
1.      Mobile friendly & 100% responsive
The form builder is fully responsive. It means that no matter which device your visitors are using, your forms will always look great. The plugin is 100% mobile-friendly.
2.      Drag & Drop builder
You can create an amazing form without writing a single line of code. With the powerful drag & drop builder, you can design a smart one in only a few seconds.
3.      Spam protection
Annoyed about receiving spam? The WordPress builder uses a smart captcha and a unique method to block the spam form submission.
4.      Pre-built form templates
With WPForms, you can use several pre-built templates to save time and design amazing forms. Save your time and energy by using the beautifully designed templates.
5.      Unlimited Add-ons
The powerful plugin allows you to integrate the form with several Add-ons. AWeber, Constant Contact, GetResponse, Mailchimp, Drip, Campaign Monitor, and ActiveCampaign allow you to integrate the mailing services.
Take donations, payments, and online orders with Authorize.Net, PayPal, and Stripe Add-ons. Moreover, you can see the pages and posts which user have visited with User Journey Add-ons.
There are several other add-ons that you can integrate to avail incredible functions and features.
6.      User registration
With a user registration Add-on, you can build a custom form for user registration. It also allows you to connect the form with payment collection and newsletters.
7.      Instant form notifications
Whenever a user submits the form, it will instantly notify you through email. It will ensure a fast response to make a great first impression on the visitors.
By using smart tags, you can also let the visitor know that their submission has reached you, and they will be contacted shortly.
8.      Entry Management
WPForms stores all the form entries in the WordPress database, and you can easily access them in the WordPress admin dashboard. View all the entries in one place with an easy entry management feature.
9.      Multi-page forms & file uploads
Long forms irritate the visitors more than you think. Improve the user experience by dividing the form into multiple pages.
Many website owners feel the need to collect additional information like images, PDFs, or any documents as part of the form. You can add this feature to your WordPress form with a drag & drop builder.
10.  Smart conditional logic
The conditional logic allows the website owners to hide or show the specific fields depending upon the visitor's behavior. It works best for the feedback forms.
11.  Surveys & Polls
Do you want to improve customer experience by gathering their feedback? With WPForms, you can easily add the survey feature to your website without paying for any 3rd-party service.
All the data will be stored in the WordPress database.
12.  Conversational Forms
These forms are exclusively designed for WordPress, and you can add them to your WordPress website with WPForms. Instead of showing all the options at once, ask one question at a time as one conversation.
13.  And many more
There is a lot more which you can achieve with WordPress form builder, including form abandonment, post submissions, signature forms, gathering geolocation, locking forms, and many more.
How to create your first form with WordPress form builder?
WPForms are extremely easy to use. When you install the plugin successfully, the wizard guides you to design your online form. Here is the complete process to build your first form in only five minutes.
The first step is to install and activate the plugin.
Now, name your form. Type the name such as contact form or login form and select done.
The next step is to add the fields. It is recommended to choose a pre-built template for ease, or you can go for a blank template and customize it.
Once you have selected the template, the form builder allows you to add or remove the fields. You can customize the look and function of your form.
It also allows you to select the desired field from the sidebar and drag it to your form.
The next step is to customize the form notification settings.
The final step is to embed the form into your WordPress website or page, and you are done.
How much you have to pay to use WPForms?
The most powerful WordPress form builder is not free of cost, but the price is justifiable as great things come with a price. They don't offer a trial, but if you are not satisfied with the product over 14 days after purchase, there is a 100% money-back guarantee.
WPForms comes with four pricing plans. You can choose the one depending on your needs and budget. It also has a  WPForms free version, but it doesn't offer all the features.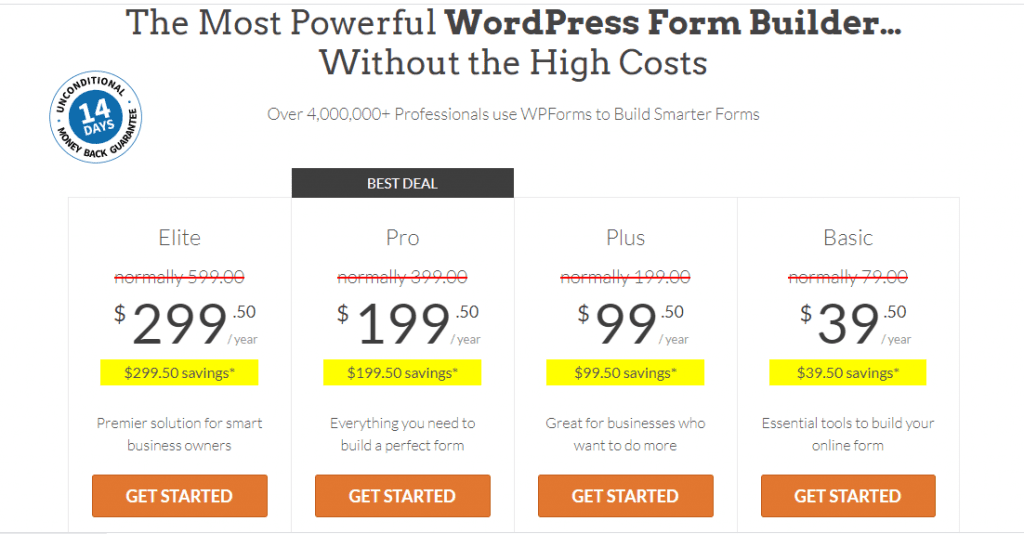 Start using the easiest WordPress form builder now, as it is worth the hype. Users have admitted that it is better than other competitors. Along with all the incredible features, Add-ons, integrations, and templates, you also get a money-back